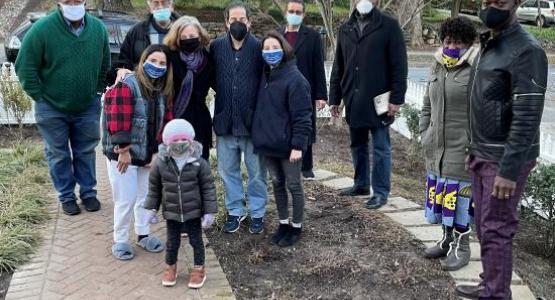 Potomac Conference Members Comfort Grieving Lawmaker
May 26, 2021 ∙ by vmbernard ∙ in Potomac Conference
Story by Potomac Conference Staff
They are known as the Pandemic Comforters—a group of members from Washington, D.C., area churches, who embark on a mission to bring hope and healing. The unique work of this group is two- fold: to encourage politicians in a time of need and to offer prayers with them in bringing an end to the coronavirus and protecting our nation's democracy.
Group members, including founder Rockefeller Twyman, a member of the Rockville (Md.) church, recently visited the home of Maryland Rep. Jamie Raskin, whose son, Thomas, took his own life.
Having worked as a volunteer on Raskin's campaign, Twyman was able to connect with the lawmaker when his son passed away. Heartened by the group's visit and genuine thoughtfulness, Raskin and his wife, Sarah Bloom Raskin, along with their two daughters, now call the Pandemic Comforters their spiritual advisers.
"He was in tears because he had just lost his son," says Twyman. "Our visit was needed to bring just a little bit of joy in such a time of sorrow. As Christians, that's what we're supposed to do—go out and be a blessing to others."