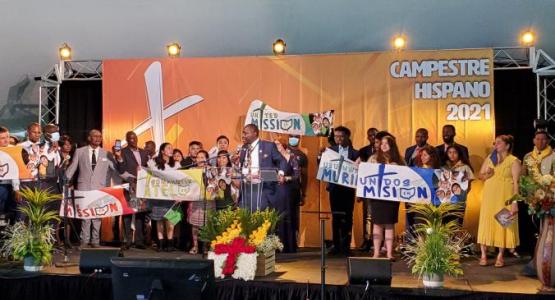 Ohio Conference Hispanic Camp Meeting Unites in Mission
October 27, 2021 ∙ by vmbernard ∙ in Ohio Conference
Story by Kasper Haughton Jr.
Camp meeting season came to a beautiful conclusion this year, as families from across Ohio gathered for the 2021 Hispanic Camp Meeting. Attendees camped in beautiful weather to worship together under the big tent at Camp Mohaven in Danville.
Across Ohio, Hispanic Ministries encompasses many congregations of varying languages. During the service, representatives from each of those congregations shared the theme, "United in Mission," in their own language: Spanish, Tojolabal, Swahili, Portuguese, French and Kinyawanda.
Hispanic camp meeting is not only a time for worship, but a time to celebrate new lives that are surrendered to Christ. Peter Simpson, Hispanic Ministries coordinator, encouraged the attendees by sharing how God has been blessing the ministry: "As of today, Hispanic Ministries has grown to more than 2,300 members in the Ohio Conference," he said. "Over the past year, 678 members have been involved in the mission of bringing people to know Christ. We've never seen this before! Year to date, 345 people have given their lives to Jesus!"
In fact, during the worship service, 28 people were baptized on site. As of September 2021, 707 people have come to Christ through baptism and profession of faith across the Ohio Conference. This brings the conference ever closer to the ministry goal of baptizing 2023 people by the year 2023!