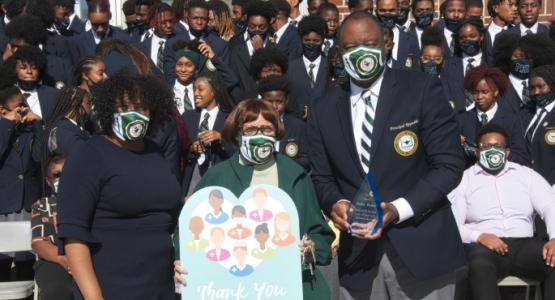 Nurse Booker Honored for Exemplary Service
January 14, 2021 ∙ by Web Administrator ∙ in Allegheny West Conference, Education
Story by Tracey Jackson
Pine Forge Academy (PFA) students and staff recently recognized the exemplary work and dedication of Audrey Booker, who served and retired as the school nurse in September 2020.
Booker accepted the "temporary" position in 2010 after her prior retirement as school nurse at a public high school in Reading, Pa. This temporary position turned into 10 years, in which Booker endeared herself to the students, becoming a mother, grandmother, counselor and friend to all. During her tenure, her expertise and care extended to all who matriculated through PFA.
Booker was always willing to taxi students to the hospital, therapy and doctor appointments, and those desperately needing trips to Walmart. Having a natural heart for giving, she was known to leave sweet treats in the dorms or gifts in the faculty lounge or staff mailboxes. She also gave special gifts to graduating seniors before leaving campus.
Through the coordination of Booker, PFA continues to be a Miller-Keystone blood bank mobile center. Hosting two yearly blood drives for 10 consecutive years and providing education to the school community, Booker assisted in the collection of more than 400 units of blood that has saved at least 1,200 lives. She has ensured that graduating seniors who meet donation requirements are entered into the Miller- Keystone High School Hero Cord Program, and has helped other students earn donation scholarships and various science awards and internships.
As a trained American Red Cross First Aid/CPR/AED instructor, she devoted many weekends training staff and students, and was a vital participant in COVID-19 preparedness and health task force planning for the school's 2020–21 reopening.
Booker, noted as "brown eyes and cute" among her PFA graduating class ('55), devoted countless hours of loving attention to the school where she worked and attended. It is PFA where she met the young man who would become her lifelong, loving husband and best friend, Robert Booker ('56), who served as the director of Communication for the Allegheny East Conference until 2014, and is a former PFA faculty member. The couple are the parents of two PFA graduates, Cheryl Booker ('80) and Robert Booker, Jr. ('85), and the Bookers remain supportive of various family members who send their children to PFA.