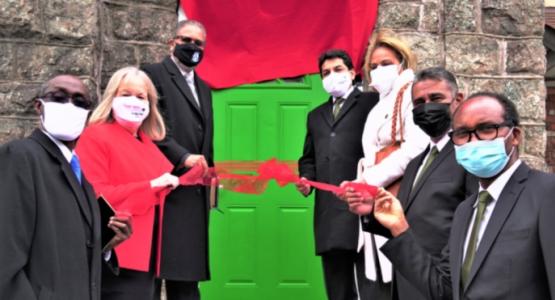 Luso-Brazilian Inaugurates Community Center L.I.F.E.
July 26, 2021 ∙ by Web Administrator ∙ in New Jersey Conference
Story by Anthony Baff
New Jersey Conference (NJC) officials recently inaugurated the first NJC center of influence on the premises of the Luso-Brazilian church in Newark, N.J. (pictured).
Pablo Cisneros, pastor of Luso-Brazilian, along with local church members, attended the event. Also present were New Jersey Conference administrators Jorge Aguero, president; Mario Thorp, executive secretary; and Karen Senecal, treasurer, as well as Ligia de Freitas, the city's deputy mayor, and other community authorities.
The center of influence identifies itself as the "Community Center L.I.F.E." The acronym "L.I.F.E." sums up the essence of the project: "Life Is For Everyone."
Immigrants who live in Newark face many challenges daily. One of the center's goals is to help stimulate entrepreneurship so that they gain a sense of belongingness, learn new trades and acquire an extra source of income. The center also plans to actively and intentionally contribute to the community by offering services, lectures and courses. Overall, the center aims to build a better life, community, city and country, without losing sight of our heavenly home.
"Life takes on a very special meaning when there is a willingness to reach out and help those who need it most," says Cisneros. "Yes, with absolute certainty, life is happier when you give instead of receiving."