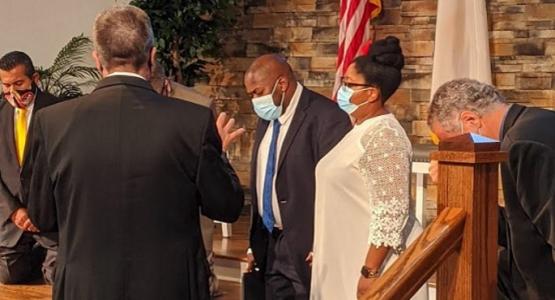 Kosly Joseph Ordained to Gospel Ministry
February 02, 2021 ∙ by Web Administrator ∙ in Potomac Conference
Story by Tiffany Doss
Kosly Joseph, district pastor of the Harrisonburg and Charlottesville (Va.) churches, always dreamed of being an airline pilot. "I earned a private pilot's license in 1999, and worked as an air traffic controller, guiding pilots in and out of JFK airport in New York City, and then Albany airport in upstate New York," he shares. "I loved it."
Growing up as a pastor's kid, Joseph doesn't remember a time when he wasn't serving in church. So when he was given an ultimatum to work on Sabbath or lose his job, he quickly made a decision: "I chose to follow God, and He led me into several jobs that prepared me for my future," Joseph explains.
God then started hinting He had something else in store for Joseph. Strangers and co-workers would constantly ask him if he had ever considered being a pastor. His unique blend of gifts and life experiences eventually propelled him into the ministry.
After graduating from the seminary in 2010, Joseph accepted a call to the Potomac Conference as a coach for Church Community Builder—a software that helps leaders engage with members—and the pastor of the French American company in Takoma Park, Md. He later served as an associate pastor of the Takoma Park (Md.) church until 2018, when he took his current post in Virginia. And, on his birthday last fall, he was ordained to the gospel ministry.