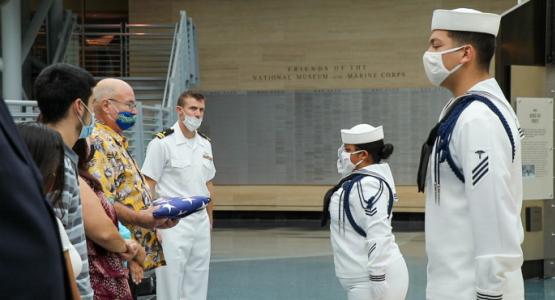 Flag Folding Ceremony Honors Departed Veteran
November 08, 2021 ∙ by Web Administrator ∙ in Potomac Conference
Story by Debra Anderson
The Fredericksburg (Va.) church is located just a few miles from Marine Corps Base Quantico. The base's proximity to the church makes it convenient for active-duty personnel to worship there on Sabbaths.
Robert Littlejohn Jr., is a veteran and member of Fredericksburg. His father, Robert Littlejohn Sr., also a veteran and member, died during the early months of COVID-19, a time when large gatherings were suspended. Consequently, no official funeral service or military honors were given to the Navy World War II veteran who served as a cook aboard the USS Wasp—an aircraft carrier.
To honor the elder Littlejohn's military service, a flag that was flown over the United States Capitol was mailed to his son. It arrived neatly folded in a "square" box—not proper military protocol.
Willliam Jones, a retired Marine and church elder, says, "Robert Jr., asked if I could help him fold the flag in the proper military fashion. That's when I came up with the idea of conducting a Flag Folding Ceremony for Mr. Littlejohn Sr."
When a veteran passes, the U.S. flag drapes the casket, giving honor to the memory of his or her service. During a burial, the ceremonial folding and presentation of the flag is a heart-rendering tribute to the veteran's family, a final thank you for the member's service.
Jones' idea received support from the family, church and fellow veterans. The National Museum of the Marine Corps, located at Quantico, hosted the event. Members of the military Color Guard performed the Flag Folding Ceremony as "Taps" echoed throughout the building.
"This Veterans Day, November 11, remember those who served or still serve," says Jones. "Thank them for their commitment and service to this country."