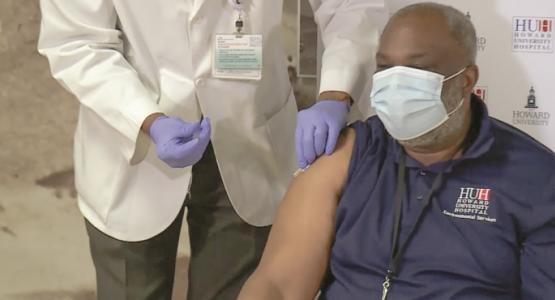 Dunlap Leads by Example, Takes COVID-19 Vaccine
March 17, 2021 ∙ by Web Administrator ∙ in Coronavirus Pandemic, Potomac Conference
Story by Debra Anderson
In silence for almost three weeks, he contemplated his decision. Roy Dunlap serves as a deacon at the Restoration Praise Center in Bowie, Md., and is the director of Environmental Services at Howard University Hospital in Washington, D.C. In his role, Dunlap supervises the hospital staff members who are responsible for cleaning and sanitizing all things related to COVID-19.
When news that a vaccine would be available for frontline workers at the hospital, Dunlap had a decision to make. He needed to consider the implications of taking or not taking the vaccine. Given that the majority of his staff are people of color—93 percent African American and Latino, and 7 percent Asian—he anticipated some resistance to the injection.
The mortality rate for those in minority communities from COVID-19 is three times higher than that of Caucasians. That statistic weighed heavily on Dunlap as approximately a quarter of his staff got infected with the virus. Dunlap reflects, "One of our employees died from the virus, yet my staff were more fearful of taking the vaccine than of COVID-19 itself."
As a leader, Dunlap felt he needed to set an example for his team, and scheduled his appointment to receive the COVID-19 vaccination. "I felt taking the vaccine was important to help calm some of the skepticism and mistrust among those in our community," he explains.
Dunlap was one of the first in the nation's capital to take the injection (pictured). To date, nearly 40 percent of his staff have taken the vaccine.