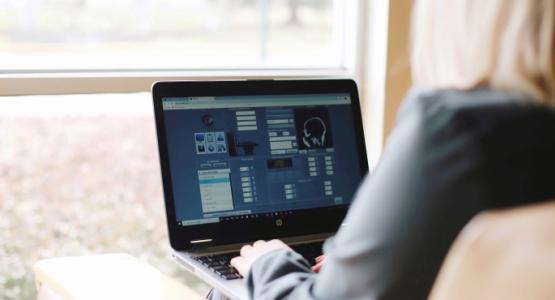 Advanced Imaging Students Build Real-life Skills with Simulation-based Training
April 12, 2021 ∙ by Web Administrator ∙ in Coronavirus Pandemic, Kettering College
Story by Lauren Brooks
From detecting the early stages of cancer to diagnosing COVID-19 and pneumonia, advanced imaging techniques are playing a critical role in the future of health care. To meet the growing demand for skilled technologists, Kettering College's Advanced Imaging program is utilizing simulator software that gives students hands-on experience with today's medical imaging technology.
The sophisticated, online-based simulator software offers an immersive training platform, allowing students to practice scanning their skills anytime and anywhere there's a Wi-Fi connection. Kettering College is one of two institutions in Ohio, and the only college in Dayton, to use the innovative software.
Taryn Talbott, associate professor and clinical coordinator of Advanced Imaging at Kettering College, has utilized a magnetic resonance imaging (MRI) simulator in her curriculum for the past four years.
"The MRI simulator is a huge asset because it helps students learn at their own pace and apply their knowledge in a relaxed environment," said Talbott. "We've seen a significant increase in students' confidence as they walk into their clinical rotations at local hospitals because they're already familiar with the technology."
Amanda Carmichael, who is pursuing her MRI certificate, says the opportunity for simulator training was one of the reasons she chose to attend Kettering College.
"The simulator is extremely similar to actual MRI scanners in the field, so I felt much more comfortable walking into my first day of clinicals at a Level I trauma center," she said.
The MRI and CT programs are part of many stand-alone certificate programs at Kettering College offered completely online and are also offered as part of the school's bachelor's degree completion in advanced imaging.
For more information, visit kc.edu/advanced-imaging.