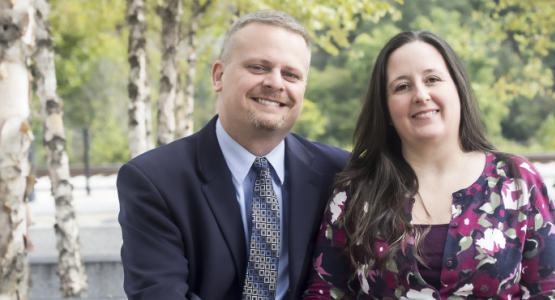 New Women's Ministries Director Shares Her Story
October 05, 2020 ∙ by Web Administrator ∙ in Mountain View Conference
Story by Valerie Morikone
Get to know Brittan Hewitt, the new Women's Ministries director for the Mountain View Conference:
I grew up in Roanoke, Va. My parents divorced when I was very young, and I lived with my mom most of the time. My mom and stepdad were both in law enforcement, and my dad was a firefighter. My grandfather and mom made sure I knew about Jesus and went to church. I went to a Christian school until eighth grade, then attended public school.
In my later teens, I worked at a daycare, did medical transcription for a year or two, then went on to be a 911 dispatcher at the Roanoke County Police Department (Va.). After seven years, I went to work for the Norfolk Southern Railroad Police (NSR) as a police communications officer. After taking a stand for the Sabbath while working for NSR, I was blessed to find an at-home job doing medical transcription until just a year or two ago, when I started working at the Mountain View Conference office.
I went through a hard experience during my teens and twenties that helped me realize it was time to turn back to Jesus. When I took a stand for the Sabbath while working for NSR, I was pregnant with my daughter, and I was put on unpaid suspension. It was a very stressful time, but it was a time for growth and learning to let go and let God!
I met my husband, Mike, while working as a dispatcher at the police department. He was a police officer, and we worked midnight shift together.
I have two children. My oldest is Jewell, 13, and will be entering ninth grade this year at Parkersburg Academy (W.Va.). She is a kind soul who stands up for what is right. She loves art, her cat, Ginger, and playing computer games. My youngest is Levi, 7, and he will be entering second grade at Parkersburg. He is a sweet, loving guy. He loves his cat, Bandit, LEGOs and playing games on his iPad.
For my devotional time, I journal and use the YouVersion app on my phone. That's my go-to. For recreation, I enjoy swimming, outdoor walks and going RV camping with Mike and the kids.
If it weren't for COVID-19 restrictions, the conference would've held its annual women's retreat. Instead, we are offering online sessions for young ladies ages 18–21, since some may feel that women's retreats aren't focused toward their age-group.
In these uncertain times, I would encourage all women—and men—to continue focusing on Jesus. It is so easy to get wrapped up in other things, lose focus and live in fear of what is going on around us. Spend time with Jesus each day, and give everything over to Him. Stay strong, and be a help to those in your church and community. Don't forget the young ladies in your churches; they are exposed to so many distractions in their world. Be a listening ear, and pray with them. Let's keep sharing the love of Jesus each day, everywhere we go. You never know who needs to see a smile or hear a kind word!