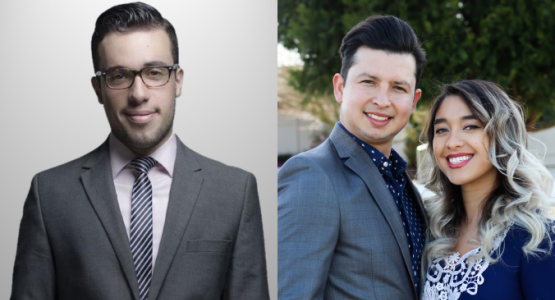 New Pastors Lead Multiple Churches
October 08, 2020 ∙ by JennaLettsome ∙ in New Jersey Conference
by Anthony Baffi
When Gabriel Morales was a child, his parents, Francisco and Maria, took him and his three sisters to both the La Victoria and Perth Amboy Spanish churches.
As a teen, he joined the Edison Spanish church, where he eventually became an AY leader under the tutelage of pastors Mario Thorp, currently the executive secretary of the New Jersey Conference, and Laffit Cortes, former conference youth director. When he was 18, he began his studies at the Adventist University of The Plata in Argentina. Soon after, he transferred to the Antillean Adventist University in Puerto Rico, where he worked as an associate pastor for the university church, under the leadership of Abiezer Rodriguez.
In May 2016, he completed his Bachelor of Arts in Pastoral Theology, and enrolled in the Seventh-day Adventist Theological Seminary at Andrews University (Mich.), where he also served as the administrative pastor for One Place Fellowship. He completed his Master of Divinity in May 2019. He is an avid reader, a devoted youth and young adult minister and is passionate about bridging the gap between faith and everyday life.
Morales now serves the Wayne, Hackensack and Jersey City Heights church district.
Steven Fonseca Ortiz, the new lead pastor of the Princeton and West Long Branch Spanish churches, is a passionate and charismatic young man. His biggest passion is sharing Jesus' true, loving character with those whom are skeptical, while creating intergenerational Adventist communities where people of all backgrounds, ages and races can feel welcome and safe to continue to grow in Christ.
Fonseca is originally from Costa Rica. He studied Diplomacy and International Relations before accepting God's call to ministry. During his first year of ministry, God led him to create the first Adventist-organized ministry on the campus of the National University of Costa Rica. Since then, youth and young adults have been his main focus.
The Washington Conference invited him to join them as the part-time Hispanic youth coordinator in 2015, a position he held for two years. In 2017 he became the full-time youth pastor for the North Cascade church (Wash.), a relatively large community where God successfully led for the last three years.
Fonseca believes that leadership can be summed up in one word: service. He has been able to serve with the help of God and his wife, Linda, who he met in Washington while she was a Bible worker and youth coordinator for the Hispanic Ministries.
They are grateful and excited to have such a culturally diverse district, and are ready and committed to serve and guide this community into the vision in which God has prepared.