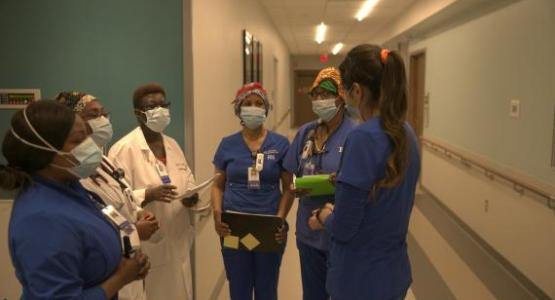 Frontline Health Workers in Maryland Receive Protective Gear in Continued Fight Against COVID-19
July 21, 2020 ∙ by vmbernard ∙ in Coronavirus Pandemic, Adventist HealthCare, Chesapeake Conference
Story by ADRA Staff
The Adventist Development and Relief Agency (ADRA), the global humanitarian arm of the Seventh-day Adventist Church, in partnership with Adventist Community Services, (ACS), delivered more than 20 pallets of essential medical supplies and protective gear to healthcare workers at Adventist HealthCare White Oak Medical Center in Silver Spring. The 180-bed acute care hospital has been serving critically ill patients affected by COVID-19 in the Montgomery and Prince George's counties since the pandemic began.
"We are grateful to ADRA and Adventist Community Services for their donations of medical supplies," says Anthony Stahl, president, Adventist HealthCare White Oak Medical Center. "Supplies like gowns, masks, and gloves help White Oak Medical Center continue to protect our healthcare workers, care for the sick and meet the other healthcare needs of our community."
Nationwide, demand for personal protective equipment (PPE) and medical supplies among hospitals and healthcare facilities has increased sharply as the pandemic has swept the nation. Access to these supplies can take up to 30 working days to be delivered, putting additional pressure on health systems and healthcare workers.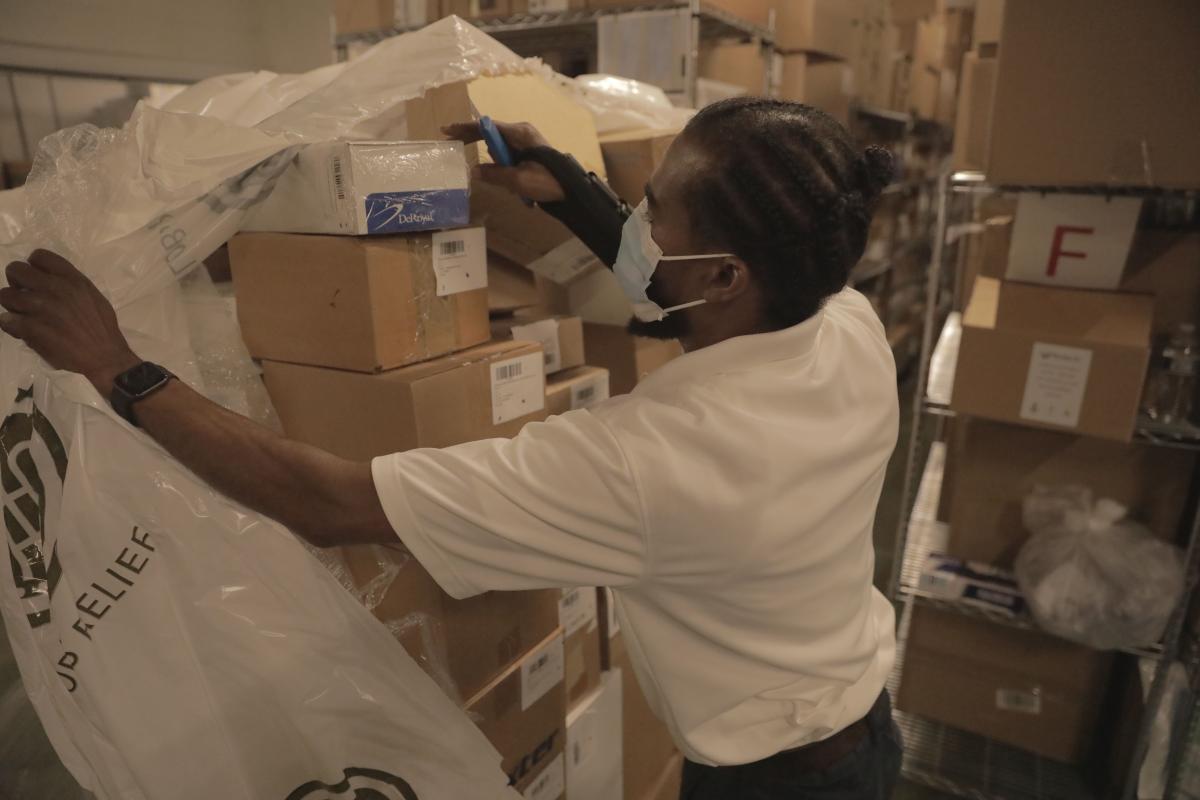 "It is a privilege to support our nation's frontline healthcare workers. As a global humanitarian workforce, frontline work is essential in any crisis we do to aid those in need. Medical teams are among that network and we are grateful to our partners, like Adventist Community Services, to help ensure hospitals in the U.S. are well equipped as they serve so many affected by this pandemic," says ADRA's President Michael Kruger.
"Our community depends on reliable, caring healthcare workers, especially in this situation. Always having the PPE to do our work safely allows us to focus on our patients," adds Beverly DeSouza, a respiratory therapist at Adventist HealthCare White Oak Medical Center.
The medical supplies, worth $2.3 million in value, are part of a partnership with Adventist Community Services (ACS) of the Seventh-day Adventist Church in North America to support healthcare facilities in suburban areas facing severe shortages of protective supplies during the coronavirus crisis. The medical supplies include personal protective equipment, such as face shields, goggles, and other essential garments for healthcare workers to reduce exposure to the coronavirus and other infectious agents.
"ADRA and Adventist Community Services have long been recognized for their vital relief work. Their mission and partnership are especially significant in this time of a global pandemic," says Terry Forde, president and CEO, Adventist HealthCare.  "We appreciate the shipments of personal protective equipment over the last couple months as Adventist HealthCare continues to extend God's care to COVID-19 patients in Maryland and the Washington D.C. region."
Healthcare facilities in Alaska, California, New York, and Texas have also received essential medical supplies from ADRA and ACS. Additionally, the relief agency provided more than 45,000 personal protective equipment and facemasks to Loma Linda University Health in California and partnered with Florida-based AdventHealth to ship tons of medical gear to hospitals in Jamaica and the Dominican Republic, where medical centers are also facing severe supply shortages. ADRA will also deliver a new shipment of medical supplies, worth $4.5 million, to countries in Africa.
"It is truly a privilege to partner with ADRA and Adventist HealthCare for this unique opportunity. In Adventist Community Services, we are always seeking to have the most positive impact on our communities, especially in a time of need. This special partnership empowered us to share in-demand PPE supplies with a healthcare organization replete with courageous frontline workers that are saving lives every day," says Chesapeake Conference ACS Director Ignacio Goya.
As part of a broader COVID-19 related response, ADRA has also committed $150,000 to provide food parcels to thousands of vulnerable families through ACS food pantries across the U.S.
ADRA has been responding globally in nearly 70 countries, including the U.S., to help more than 2.7 million families and communities heavily impacted by the novel coronavirus health crisis. ADRA's response teams are providing a range of humanitarian assistance that varies from country to country. This includes the distribution of PPEs, face masks, hand sanitizers, food kits, cash vouchers, as well as hygiene training. 
See ADRA's global response tracker: https://adra.org/adra-provides-hope-during-coronavirus
Maryland registered 75,016 COVID-19 cases, more than 3200 deaths, and 447 people hospitalized. The United States is number one worldwide with the most confirmed cases at more than 3.48 million. Globally, more than 13.4 million people have contracted coronavirus and 580 thousand have died according to the World Health Organization. (*These numbers are likely to change as the pandemic sweeps the globe.) 
Read more about ADRA's response to COVID-19 or show your support by visiting ADRA.org
Learn more about White Oak Medical Center's response to COVID-19 at https://www.adventisthealthcare.com/news/.