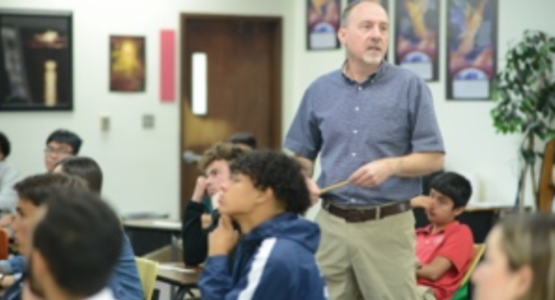 Alumni-Parent Role Models Inspire at Career Day
March 18, 2020 ∙ by rbacchus ∙ in Potomac Conference, Education
Story by Janel Ware
The Shenandoah Valley Academy (SVA) Alumni Association Board is developing a database of alumni and parent professionals interested in sharing their education and career journeys with students: "It's wonderful that many alumni specially desire to inform, inspire and encourage today's students by returning to share their career experiences. We've been thrilled with the response and hope for more!" says Kelli (Fluharty) Hanon ('88), alumni president.
"We're grateful for enthusiastic alumni and parents willing to travel and dedicate their Sunday to dialogue with students," says English teacher Deborah White. In line with the SVA mission of "educating disciples of Jesus prepared for college and careers," White recruits and organizes a new group of professionals for Career Day the first Sunday of each school year.
Thank you alumni and parents who presented to students for the 2019–20 Career Day: Elizabeth Armstrong, journalism/communication; Traci (Clark) Brossfield ('88) and Jared Thompson ('88), sales; Hans Fairbank, landscape design; Shalyn Crawford-Garman ('01), veterinarian; Stacey (Malcolmson) Good ('01), dentist; Paul Griffin ('84), real estate investment; Laura (Rulona) Lowe ('91), registered nurse; Buz Menhardt (honorary, '13), pastor; and Duane White ('86), physician. Presenters discussed the training and education needed for their fields and answered a wide variety of questions from students about interests and aptitude, employment opportunities, pay scales, job satisfaction and motivation for choosing their professions.
"I liked how some presenters gave the pros and also the cons for careers because not every field is for everyone," says senior Stella Souza, explaining that Career Day helped her pare down career choices.
Sophomore Jessa Kinney agreed, sharing, "Career day helped me rule out being a veterinarian, and I actually found landscape design interests me."
A favorite presenter, alumni-parent Laura Lowe, is a registered nurse studying to become a nurse practitioner. "Mrs. Lowe answered many questions, explaining that nurses are in high demand and do many types of jobs. She also shared information about other medical professions," says senior ShaDiamond Wilson, now considering a nursing major.
SVA is blessed with increasing involvement by alumni who have a special opportunity to inspire students to think about what's possible in their future professions. "Having alumni return makes it a fun, informative Career Day for everyone," shares Janel Ware ('86), Development and Alumni director. "It's exciting to see alumni leave inspired by students' interests and aspirations too."