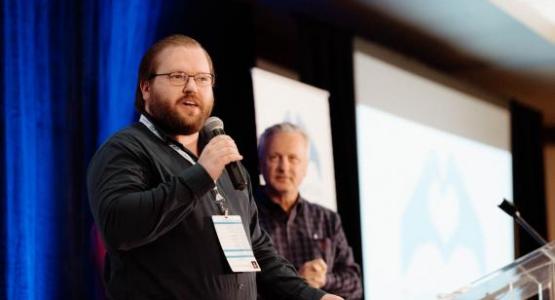 Shark Tank Event Supports Young Adult Evangelism
May 02, 2019 ∙ by vmbernard ∙ in Columbia Union News, Allegheny East Conference, Allegheny West Conference, Chesapeake Conference
Story by V. Michelle Bernard / Photos by Brian Tagalog
One of the highlights of Transformation Evangelism, Columbia Union Conference's recent event for pastors in Columbia, Md., included the awarding of $20,500 to young adult evangelism projects planned and run by local young adults.
A committee comprised of young adults chose the three finalists prior to the event. Conference attendees voted on Monday evening, determining the prize amounts for each project.
Allegheny West Conference's (AWC) Southeast church (Above: Frank Bondurant, vice president for Ministries Development at the Columbia Union, celebrates with Southeast Pastor Jerome Hurst) won the first-place prize of $10,000 for Project Somebody, a ministry that provides services to youth at the Cuyahoga Hills Juvenile Correctional Facility in Highland Hills, Ohio. Young adults from the church, led by Charde' Hollins, AWC's Young Adult Ministries leader, regularly meet with the youth for fellowship, spiritual nourishment and to provide training that will help them better assimilate to society after leaving the facility.
The Break Out project and Christ Con tied for second place.
Break Out, sponsored by Allegheny East Conference's Movement Germantown (Md.) Adventist Project, is an event where young adults gather and nurture long-lasting relationships by learning how to create professional videos on physical fitness, healthy cooking and photography, also used to connect with the community. Breakout received $5,000 and won an additional $500 for obtaining the most votes in the social media portion of the contest.
Christ Con, led by young adults at Chesapeake Conference's Hagerstown (Md.) church, will be a three-day Christian gaming and entertainment convention, with smaller meetings throughout the year. The group won $5,000.