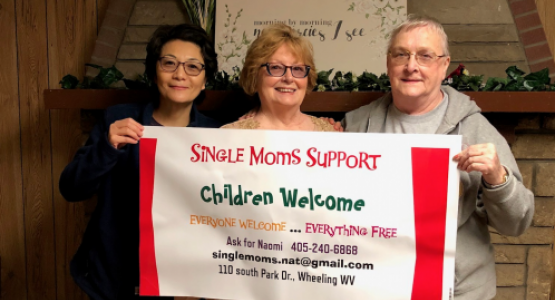 June 20, 2019 ∙ by rbacchus ∙ in Mountain View Conference
Story by Valerie Morikone
Naomi Tricomi has a fascinating story to share of her experience as a Bible worker in the Mountain View Conference (MVC):
My great-grandparents came to the U.S. from Russia (now Ukraine) in the 19th century and met a group of immigrant Seventh-day Adventists who wanted to claim land in Oklahoma. Our family did not immediately accept Adventism. On my great-grandfather's death bed, he told his family he was convinced that Saturday was God's ordained Sabbath. The entire family joined the Adventist church and were instrumental in building the first church and cemetery in the new territory.
That is how our family became Adventist. Here is how God called me personally to witness for Him. While attending the Oklahoma Camp Meeting in 1972, I felt an overwhelming call to become a literature evangelist. So, I decided to become a colporteur for three years. At that time, Larry Boggess, the former MVC president, was the literature assistant.
In 2012 Boggess contacted me because he was recruiting a Bible worker to follow up contacts from a Voice of Prophecy mailing. I was serving as city clerk at the time and there was little doubt that I would be re-elected at the end of my contract. Still, I felt drawn to the need and mission of Bible work in the MVC.
I served in Huntington, W.Va., for one-and-a-half years, and then the Cumberland, Frostburg and Mountaintop (Md.) district for more than two years.
Next, I moved to Beckley, W.Va., the site of the 2016 Your Best Pathway to Health program, followed by engaging in evangelistic meetings and health outreach programs. And for the past year, I have been in the Weirton/Wheeling, W.Va., district and carry the role of pastoral assistant.
One lady that I studied with had a variety of emotional issues. She told me she only wanted Bible lessons to satisfy her sister who kept "nagging" her to "give God a chance." She wanted to study at 4 p.m., but that just so happened to be her "beer thirty" time. She was negative, grumpy and made very coarse comments.
After a while, I explained to her that if I didn't receive some respect, she should study on her own. The next time I visited, she had fresh air circulating and no beer bottle in sight. As time went on, I saw less and less evidence of tobacco or alcohol. On the day she decided to be baptized, we hugged and cried. She tells me she now has peace.
I also studied with a recently retired couple. They requested baptism and wanted it soon. I was a bit concerned they decided too quickly, but they appeared sincere. About a year later, I was in another area when I received an early morning phone call from the husband.
His wife had died from a heart attack the night before. Prior to her death, she made him promise to call me first thing and thank me for coming to study with them. That way she could die in peace. He cried and thanked me for giving them the blessed hope.
It is such a privilege to share God's Word with friends, relatives, neighbors and even enemies. The rewards are beyond measure. Every time someone is baptized whom I studied with, I thank the Lord for the opportunity to have played a small part in their commitment to Him.