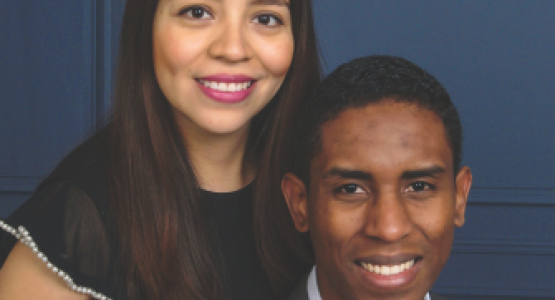 Ohio Conference Introduces New Treasurer
December 12, 2019 ∙ by rbacchus ∙ in Five Things You Need to Know, Ohio Conference
Story by Heidi Shoemaker/Ricardo Bacchus
The Ohio Conference Executive Committee voted Roy Simpson into office as conference treasurer during their December meeting.
According to former conference president Ron Halvorsen Jr., Simpson was recommended by both conference finance and personnel committees, and was approved unanimously by all present at December's executive committee meeting. Simpson has been with the conference since 2015, serving as assistant treasurer before becoming interim treasurer during the second half of 2019.
Simpson knew early on he wanted to serve the Seventh-day Adventist Church, though not as a pastor like his father, but specifically in finance. In order to gain the experience he knew would be required, he volunteered at the age of 16 as a cashier in the Treasury Department of his local Atlantic Honduras Conference. There he worked closely with the accountant and treasurer, who were willing to teach and work with him, allowing him to learn how a conference operated.
A native of Honduras, Simpson earned his degree in Business Administration, with an emphasis in Accounting, while working in the Accounting Department of the Adventist University of Central America (Honduras). Simpson later moved to Cleveland in 2011, where he began his first job in the United States for a prescription benefit management company while working toward his Master of Business Administration, with an emphasis in Finance. However, Simpson did not believe he would have the opportunity to work for the Church in the U.S. "This was a sad part of my life," he says.
Simpson began volunteering with a young adult group who met Friday nights. Later the group established Revive, a second-generation Hispanic church. His secular position allowed him to concentrate his free time on the church and youth group. "This period of time helped me to realize and understand that wherever you are, wherever you work, and in whatever setting you are, you can always serve the Lord."
In the early summer of 2015, Simpson's department notified him that they were being dissolved. While looking for a new job, a providential series of events and meetings connected Simpson with Ohio Conference leaders, and by August 2015, Simpson was hired as the assistant treasurer.
"God is always working something out; to me that is the only assurance. Whether you're being let go from a job or being given a new responsibility, it's not about what I do or what I'm good at; it's about what God is working out," he says.
 Simpson identifies himself as being purpose-oriented. His goal for the Treasury Department is "to be strong financially, so we can do ministry [here in Ohio]. I thank the Lord very much because He's allowed me to be born into this," shares Simpson. "I'm excited for the opportunity to serve. I'm excited for the opportunity to give my life to the Lord. I love this Church; I was born in this Church. I'm more than happy and pleased and glad to be able to give my life to this Church in every sense."