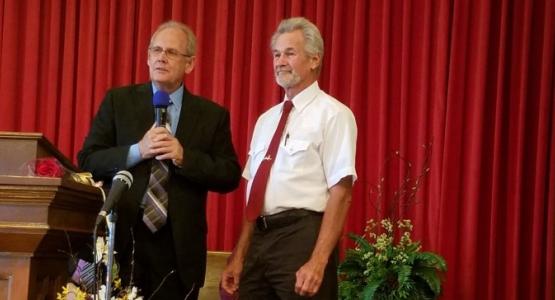 Member Converts from Mormonism to Adventism
June 11, 2019 ∙ by Web Administrator ∙ in Mountain View Conference
Story by Jim Buchanan
The Cumberland and Frostburg (Md.) churches sponsored an evangelistic series a couple of falls ago, led by Columbia Union Conference President Dave Weigley. While reviewing nightly registration slips, someone noticed that one attendee had indicated he was Mormon. Don Kelly, a fifth-generation Mormon, recalls, "As a child, I heard the story about my great-great-grandfather who was a wagon builder and was in the church with Brigham Young ... the second president of the Church of Latter-Day Saints."
At the evangelistic series, Kelly was slowly being convicted as he learned truths from the Bible. "When I first received the flier in the mail, I contemplated for two days whether to attend the meetings," he says. He now believes it was a divine calling.
One topic that really caused him to think was the biblical Sabbath. Kelly realized he had been worshipping on the wrong day. He went back to his church repeatedly to speak with the head bishop about what he was learning. The leaders could not prove him wrong in the doctrines he shared with them.
At last year's camp meeting, Kelly came forward when he heard the call for baptism. A month later, he was baptized into the Frostburg (Md.) church and is sharing his newfound faith with others on Facebook, including his former Mormon associates.