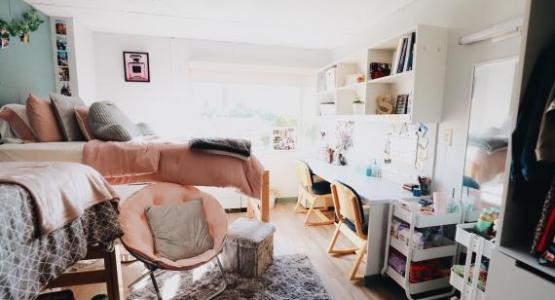 Kettering College Residence Hall Undergoes Renovations
December 11, 2019 ∙ by vmbernard ∙ in Kettering College, Education
By Natalia Pérez-González
Kettering College began the first phase of renovations to the third floor of the female residence hall in May 2019.
The third-floor bathrooms, kitchen, lobby area, and the south and west halls now feature refinished floors, with updated ceiling tiles in the kitchen and lobby area. The rooms have been updated with California style closets, built in dressers, new lighting fixtures, memory foam mattresses, hardwood style flooring and Corian countertops for the desks, sinks and dressers. 
Kettering Medical Center has funded the renovations, granting Kettering College a $1.2 million project budget, according to Nicholas Henson, director of Finance and Administration at Kettering College. For the first phase of renovations, $340,000 of it was used. 
Currently, 22 out of the 32 rooms have been fully renovated. Phase two of the renovations will take place in the summer of 2020, when the remaining 10 rooms will be completed. Within the next two years, the second-floor community lobby in the female residence hall will also be receiving updates, along with the west wing rooms on the second floor in the male residence hall. 
"For the past several years we have been working on our strategic plan for improving the living community of the Residence Hall, so the students feel more at home," said Sarah Bayer, Residence Hall Director. "The plan is for renovations to be fully completed in the Residence Hall by 2024."