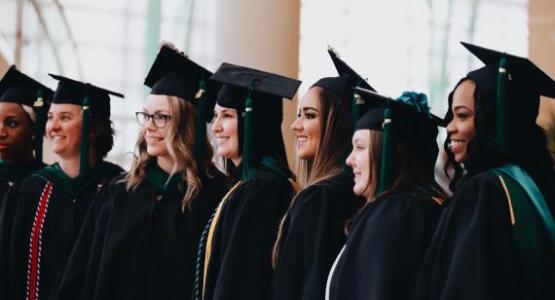 Kettering College 2019 Commencement Celebrates Graduates and 50th Anniversary of First Graduating Class
May 29, 2019 ∙ by vmbernard ∙ in Kettering College, Education
Story by Kettering College Staff
Kettering College conferred degrees and certificates to 270 students at the commencement ceremony on April 22, 2019, at the Benjamin and Marian Schuster Center. This year's ceremony featured Carl Wilkens, former head of Adventist Development and Relief Agency International in Rwanda, as the keynote speaker. In his address, he spoke of his time in Rwanda during the 1994 genocide.
"Some of our greatest learning comes in unmeasurable beauty," Wilkens said to the graduates. "As healthcare providers, you will be bright spots for people. Your compassion will take the bricks down that people may have put up." Wilkens was the only American that stayed in Rwanda. During this time, he helped bring food, water and medicine to people trapped around the city.
Wilkens encouraged the graduates to learn to hold onto goodness. "Goodness is the essence of life, remove goodness completely and life would cease to exist," Wilkens said. "Trust goodness beyond all reason."
The College also celebrated the 50th anniversary of the Class of 1969--Kettering College's first graduating class. Ruthie Gohl, a nursing graduate from the Class of 1969, and six others were honored during the commencement ceremony. Gohl was recognized for starting a free clinic in Battle Ground, Washington, where she is the executive director. Her clinic served 1700 patients last year.
College president Nate Brandstater granted 26 Associate of Science degrees and 155 bachelor's degrees, including 94 Bachelor of Science in Nursing degrees. Twenty-eight students graduated from the Occupational Therapy Doctoral program and 58 students graduated from the Master of Physician Assistant Studies program.