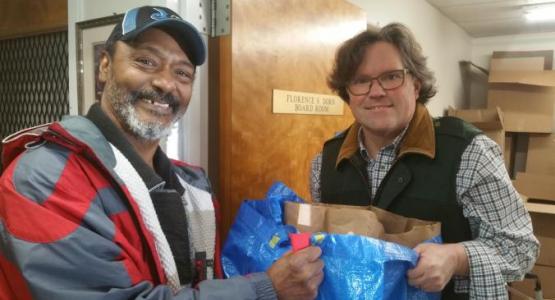 Adventist Community Services of Greater Washington Provides Help for the Holiday
November 27, 2019 ∙ by vmbernard ∙ in UpFront, Potomac Conference
Story by Kimberly Luste Maran, North American Division
While some people are now plotting their Black Friday strategy, while some are dreading the time they'll have to spend with that difficult cousin who always talks through the Turkey Day football games on TV, others with low incomes or no incomes are wondering how they will make it through Thanksgiving with enough food for their families. They don't have to worry about snagging that parking space, or managing airport delays. They'll worry about their children, who won't be getting meals through school programs during the break.
But for close to 1,000 families in Montgomery Country, Maryland, filling the Thanksgiving table with food won't be such a challenge. Thanks to generous contributions from Montgomery County and the State of Maryland, and food donations from Sligo and Takoma Park Seventh-day Adventist churches, and Takoma Academy Preparatory School, people who preregistered through a county database received a full, 30-pound Thanksgiving meal basket including turkey, bread, vegetables, potatoes and more. For three days, starting Nov. 25, 2019, families came to the Adventist Community Services of Greater Washington (ACSGW) for their meals. The Takoma Park center reported that the number of families increased by 300 since last year.
"This provides the opportunity for these families to say, 'We're not different. Yes, we're struggling financially, but at least a couple times a year we can be like the rest of our culture, [enjoy] what should be happening on that date,'" said Kenneth Flemmer, ACSGW executive director. "I think that's really important because if you don't have hope, if you aren't sharing hope and exuding hope, life gets pretty miserable."
A 20-foot truck was unloaded on Sunday with the bulk of the fresh and nonperishable foods for the food giveaway at the ACSGW food pantry, which is typically open four days a week. "All our regular customers are getting a double portion this week," said Flemmer. "We figure that there is about 15 meals in each Thanksgiving kit."
At least 250 residents of Takoma Park were scheduled for food pickup, other "east county" residents comprised the rest of the list. This year, Sligo church helped pack 20 baskets for a Riverdale refugee community from the Middle East; about 100 baskets will go to families from Burtonsville.
Many expressed appreciation upon receiving the baskets. "With this help I can afford to host the family for Thanksgiving dinner," commented one recipient.
Helping to eliminate hunger in the community, especially during the holidays, is part of the ACSGW's mission. In a few weeks they will host a Christmas food basket giveaway. 
But ASCGW is about more than just food. With the Christmas kit, children with families will also get toys from the Toys for Tots program. 
The center has been serving the community through food pantry and closet, and various projects for 36 years. And throughout the year the ACSGW engages with the community through tutoring, learning center, computer classes, English as a second language classes, and summer youth programs. 
Steve Brennwald, ACSGW board of directors' chair and criminal defense attorney, is convinced that programs such as those at the center change lives. "We give kids a glimpse of what's possible; sometimes that is all it takes," he said. "You have to give people hope. You have to give them ideas. You have to give them dignity."
Brennwald added, "All of us together have to do what we can to give them hope. If we give them hope and give them help — that's why we have computer classes, and English as a second language class. We have to give people hope and the means to get there."
Local community leaders helped kickoff the distribution on Monday, including Jheanelle Wilkins, Maryland State District 20 Delegate; Tom Hucker, Montgomery County Council Member; Terry Seamens from the Takoma Park City Council and Reemberto Rodriguez, director of the Silver Spring Regional Center. Senior pastor Charles Tapp from Sligo Seventh-day Adventist Church and assistant pastor Daniel Xisto from Takoma Park Seventh-day Adventist Church also attended. 
The holiday giving project involves many weeks of preparation, including food drives, primarily by the local Sligo and Takoma Park Seventh-day Adventist Churches, but other organizations as well. Fund drives are held to support the project, and grants are received from the State of Maryland and the Montgomery County Government. Other sponsors of the program are the Seventh-day Adventist Church World Headquarters, the Steve Francis Foundation, White Oak Medical Center; and Takoma Academy Preparatory School. Dedicated ACSGW staff and many volunteers work long, hard hours to ensure the project's success.
— Adventist Community Services of Greater Washington contributed to this report.