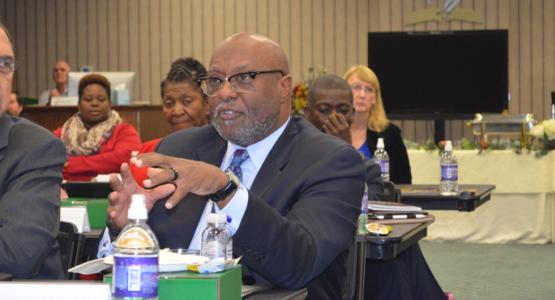 Union Committee Discusses Annual Council, NAD Votes
November 19, 2018 ∙ by vmbernard ∙ in Columbia Union News
Story by V. Michelle Bernard
At the year-end meeting of the Columbia Union Conference Executive Committee last month, members affirmed the need to focus on mission, discussed the 2018 General Conference (GC) Annual Council vote to implement a new system of compliance over church entities around the world and voted to issue a statement of response.
Sanjay Thomas, a young adult committee member who attends Potomac Conference's Takoma Park (Md.) church, shared that after the October 14 vote, he heard from many concerned young adults questioning if they wanted to be associated with such an organization that punitively addresses contextual approaches of spreading the gospel and serving in the church.
| Columbia Union Statement Regarding 2018 Annual Council Vote |
Dave Weigley, Columbia Union Conference president, added, "Our church is more polarized today than it was months ago, largely over a nonbiblical issue. This GC document violates how we do church. At the 1901 church re-organization, local unions were established to protect the expression of mission in their unique cultural context. How we express it is up to the local people." 
Rob Vandeman, the union's executive secretary, noted that the issue has changed. "The elephant in the room is no longer women's ordination, but church authority."
Several committee members highlighted a desire to seek dialogue and reconciliation, while standing against discrimination of women in ministry, addressing concerns about increasing centralization of authority at the GC and remaining focused on mission.
"We have a responsibility to respond and speak on what we believe God has called us to do. The tension we're experiencing in the church is real; the divide is real," said Marcus Harris, senior pastor of Allegheny East Conference's Dupont Park church in Washington, D.C. "[But] the biggest issue [I see] is missional distraction, if we allow it."
During the meeting, members also affirmed the North American Division (NAD) vote to "Recommend to NAD administration to discuss with [the] General Conference the issue of financial parity to be accomplished in two to three years." The NAD currently gives 6.35 percent of its tithe to the GC, with a gradual reduction to 5.85 percent scheduled by 2020. All other divisions of the church give two percent.
After some discussion, the union committee also approved the following: "To request of the North American Division that whatever percentage adjustment of tithe is made toward parity shall be retained at the local conference."
Related Articles