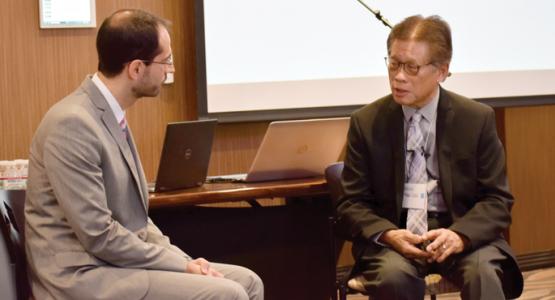 Mental Health Conference Helps Clergy Support Members
January 24, 2018 ∙ by vmbernard ∙ in Kettering Health, Ohio Conference, Health & Lifestyle
Story by Heidi Shoemaker
In 1954 Charles Anderson, a psychiatrist at Harding Hospital, and Charles Wittschiebe of the Seventh-day Adventist Theological Seminary met and immediately discovered a mutual interest in sharing their understanding of the human mind, gleaned from their psychiatric residency and clinical pastoral education," said George T. Harding IV, M.D., during his address at the recent Mental Health and the Faith Community Conference.
They brought their ideas to colleague George T. Harding III, M.D., and in October 1955, Harding Hospital held its first Mental Health Institute for Clergy. Several conference presidents attended this event before sending pastors from their conferences. "Over the next 30 years, more than 900 clergy attended, many of whom indicated that the experience helped them better understand their parishioners needs and how they could help," said Harding IV.
The Harding Heritage Foundation recently collaborated with Ron Halvorsen Jr., Ohio Conference president, and Nestor Bruno, M.S., director of Kettering Ministry Care Services, to hold a Mental Health and the Faith Community Conference. Under the leadership of Fred Manchur, chief executive officer of Kettering Adventist HealthCare in Dayton, Ohio, this network became a sponsoring partner and offered Soin Medical Center in Beavercreek as a venue.
More than 100 clergy and spouses attended this event from across the nation. While the majority came from the Ohio Conference, several ministry leaders attended from the North Pacific Union Conference (Wash.) During the intensive three-day conference, well-known psychiatrists and mental health profession- als presented a variety of seminars.
Timothy R. Jennings, a board-certified Christian psychiatrist, master psychopharmacologist and international speaker, discussed in detail the human mind, God's intention for the mind and how the mind functions today. "When Satan destroys our reason and conscience, he doesn't even need to lie anymore," said Jennings.
Denis Mee-Lee, M.D., president and principal investigator of Valden Medical, a psychiatric treatment and clinical research center in Honolulu, addressed depression and suicide, as well as addictive disorders and ministry. Sandy Wyman Johnson, R.N., director of Organizational Culture for Kettering, discussed burnout in the ministry. "The way we deal with loss or trauma shapes our capacity to be present [in] life more than anything else," she said.
Larry Kositsin, Grief Recovery specialist and Spiritual Services director for Kettering Adventist HealthCare, shared with clergy how to not "lose themselves" when faced with losses in their lives and ministry. "One cannot feel forgiveness unless one does it. Forgiveness is an action," he said.
The Adventist Learning Community recorded the majority of the seminars. Videos of the seminars will soon be available at adventistlearningcommunity.com. Another conference is anticipated next year.