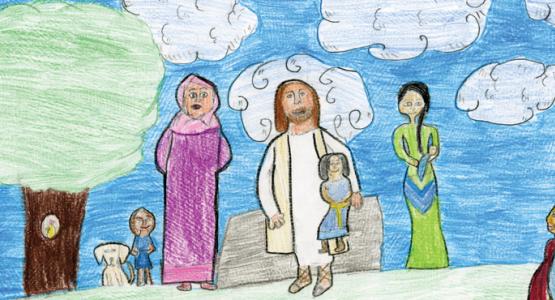 Children Illustrate 2019 Calendar
December 13, 2018 ∙ by vmbernard ∙ in Columbia Union News, This Month's Issue
The Bible is chock full of stories about people of all ages that can relate to and experiences that make us laugh and cry. Such stories teach us about God's great love and plan of salvation. They also teach practical life lessons that keep us grounded and prophecy that keeps our focus heavenward.
This year's calendar features artwork submitted by children from Seventh-day Adventist churches across the Columbia Union Conference who illustrated their favorite Bible stories. We wish that we had space to include all 111 submissions, but throughout the year we hope to feature as many of them as possible on our social media accounts, websites and in the weekly e-newsletter. You don't want to miss these beautiful creations! So, please follow us on facebook.com/columbiaunionvisitor, twitter.com/visitornews and instagram.com/columbiaunionvisitor. Sign up for the Visitor News Bulletin at columbiaunionvisitor.com/vnb.
Extra copies
2019 Columbia Union Calendars should start arriving during the first week of January. For additional free copies, call (443) 259-9578, or email srowley@columbiaunion.net after January 7.
...