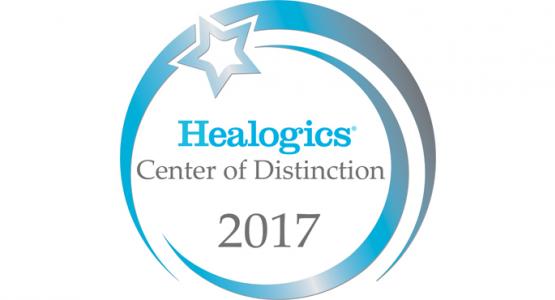 Adventist HealthCare Wound Care Centers Recognized for Excellence
April 05, 2018 ∙ by vmbernard ∙ in Adventist HealthCare
Story by Betty Klinck
Adventist HealthCare's two Advanced Wound Care & Hyperbaric Medicine centers have received national recognition for the quality care they provide to patients.
The centers at Adventist HealthCare Washington Adventist Hospital in Takoma Park, Md.,  and Adventist HealthCare Shady Grove Medical Center in Rockville, Md., have been recognized as Centers of Distinction by Healogics, Inc. They are two of only 427 centers across the country to achieve this honor.
To earn the designations, the centers achieved outstanding clinical outcomes for 12 consecutive months, including patient satisfaction higher than 92 percent, and a minimum wound-healing rate of at least 91 percent within 30 median days to heal. Healogics is the nation's largest provider of wound care services.
"We're honored that our wound care team has earned this recognition," says Cary Brown, MD, co-medical director of the center at Shady Grove Medical Center. "Being a Center of Distinction shows our dedication to caring for members of our community with chronic wounds, providing them with world-class service and improving their quality of life."
The centers offer a multidisciplinary team of specially trained doctors and nurses who provide advanced wound treatment for patients suffering from diabetic ulcers, pressure ulcers, infection and other chronic wounds that have not healed within 30 days. They have helped heal hundreds of patients, improving their quality of life and in many cases, preventing possible amputations.
"Being recognized as a Center of Distinction speaks to our center's commitment to clinical excellence in providing highly specialized wound healing options, as well as our commitment to providing a top-notch patient experience," says Ajit Kurup, MD, medical director of the center at Washington Adventist Hospital. "We are delighted to offer this unique, high-quality service to our community."