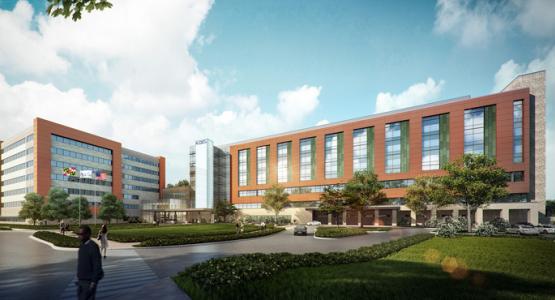 Washington Adventist to Feature New Name When It Moves to White Oak
November 16, 2017 ∙ by vmbernard ∙ in Adventist HealthCare
Story by Lydia Parris
Adventist HealthCare Washington Adventist Hospital announced a new name for its White Oak, Md. hospital this week, as the project marked a major construction milestone.
The current Washington Adventist Hospital will be renamed Adventist HealthCare White Oak Medical Center when it opens in eastern Montgomery County, Maryland in the summer of 2019.
Construction is making steady progress, including the completion of the outside of the seven-story main hospital. The 170-private-room hospital celebrated a "topping out" ceremony on Wednesday, Nov. 15, when the project reached its highest point.
Work on the inside of the hospital, as well as on a medical office building and a parking garage, will continue over the next 18 months as part of our preparation for the full range of healthcare services that will be offered.
"We are pleased to be bringing our mission, care and compassion forward into a state-of-the-art facility for our community and caregivers," said Erik Wangsness, president, Washington Adventist Hospital.
The White Oak location, along with plans for urgent care, primary care and other services in the Takoma Park location, allows Adventist HealthCare to continue extending its mission and expanding care to the community.
The White Oak Medical Center name fits Adventist HealthCare's outreach of health and healing for several reasons:
• The White Oak tree is a symbol of faith, comfort, quality and strength. It is also the Maryland state tree.
• Including the words "Adventist HealthCare" at the beginning of the name pays tribute to our Seventh-day Adventist church founders and a rich history in providing health and wellness care. The words also show unity with numerous other Adventist HealthCare entities that serve the community.
Read more in the December Visitor and learn more at OurCommunityTransformed.org.