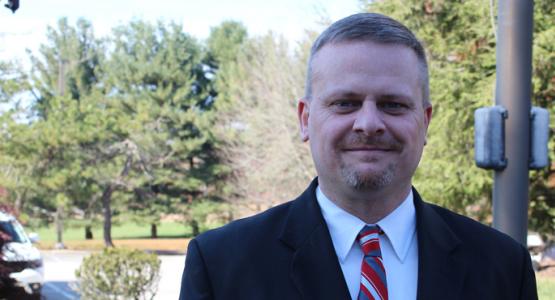 Mike Hewitt Joins Mountain View Conference as Executive Secretary and Ministerial Director
November 17, 2016 ∙ by vmbernard ∙ in Mountain View Conference
Story by V. Michelle Bernard
This week Mountain View Conference (MVC) leadership announced that Mike Hewitt will join the conference team in December to serve as executive secretary and ministerial director.
Conference leaders are looking forward to welcoming Hewitt, who is filling a vacancy, to round out their officer team of three. "Mike loves to do evangelism," says Larry Boggess, MVC president. "He loves soulwinning and people, and he can identify with many of our pastors who have come from a different profession than pastoring."
Hewitt currently serves as pastor of Potomac Conference's Lynchburg (Va.) church.  He spent the last 11-and-a-half years as a pastor in the Potomac Conference, and previously worked as a police officer for 10 years.
Hewitt says he is looking forward to working with the Mountain View Conference pastors, learning policy and helping to steer the conference in a good direction. He says seeing "many souls come to Jesus" is his greatest hope for this new appointment.
Hewitt is married to Brittan and they have two children, Jewell and Levi.