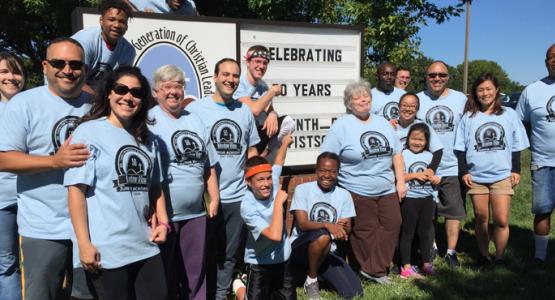 Meadow View Junior Academy Celebrates 50th Anniversary
December 14, 2016 ∙ by vmbernard ∙ in New Jersey Conference
Story by Cristina Macena
Meadow View Junior Academy (MVJA) in Chesterfield recently celebrated its 50th anniversary. Pastor Art Randall, former pastor of the Robbinsville church, one of the churches that supported MVJA through the years, delivered a powerful sermon to an audience of nearly 300 people.
On Sabbath afternoon, students from grades K–12 shared their talents through several musical performances. Pastor Sadrail Saint-Ulysse, superintendent of schools, presented a symposium on the past, present and future of Adventist education. Malou Saint-Ulysse, MVJA principal, presented a proposal detailing how to commit to ensure the future and sustainability of MVJA in its mission "to provide quality education in a Christian atmosphere." After an impromptu call to pledge, Edna Hunter, MVJA volunteer development director, several alumni, parents and friends committed to become systematic donors to the school.
The celebration continued Saturday night with recreation and an ice-cream social where alumni, friends and current students enjoyed an evening of sports and fellowship. On Sunday morning, the school hosted a physical education and heath emphasis day. Greg Harcum, MVJA board co-chair, led students, parents and alumni to an inspiring prayer walk around the campus. Lynn Covell and Sam Lombardo also led a prayer walk. Prayer warriors then participated in a 5K Run/Walk.
"The weekend was spirit-filled. We were blessed with beautiful weather and the attendance was great. May God continue to grant Meadow View Junior Academy many more years to continue to train leaders for His service until Jesus returns," says Malou Saint-Ulysse.