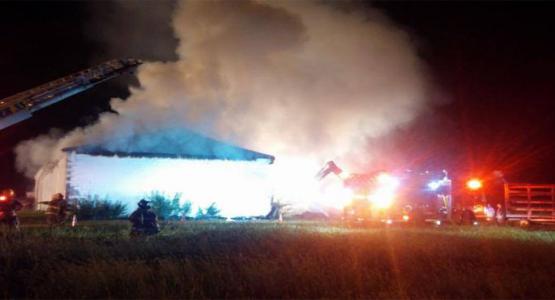 Fire Spotted at Blue Mountain Academy Campus Barn
September 09, 2016 ∙ by vmbernard ∙ in Pennsylvania Conference, Education
Statement from the Pennsylvania Conference
Thursday night at approximately 9:15 p.m. a fire was spotted in one of the barns that a local farmer uses to store his equipment and some bales of hay on the campus of Blue Mountain Academy (BMA), Hamburg, Pa. Due to the dry summer and a recent heat wave that made matters worse, it appears a spontaneous combustion occurred, causing the fire.
Very quickly local volunteer fire departments were dispatched and brought the fire under control. "At no time were any of our students at risk, as the barn is a one quarter mile from campus. A special thank you goes out the men and women of the local fire departments that braved extreme heat to extinguish the fire," says Dave Morgan, principal.
The mission of Blue Mountain Academy is to provide a Christ-centered Seventh-day Adventist education that leads students into lives of service for God. A key component to this education is the safety of our students, and tonight we are happy to report no students have been adversely affected by the fire.