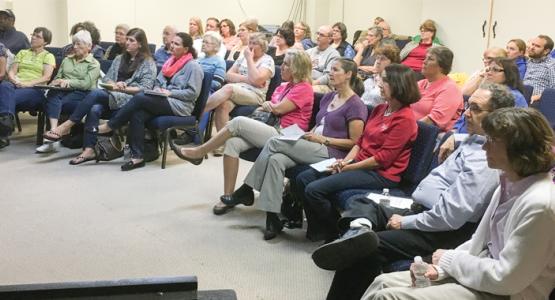 Cleveland Area Church Becomes "Viable Presence"
April 21, 2016 ∙ by vmbernard ∙ in Ohio Conference, Health & Lifestyle
Story by Heidi Shoemaker
"Twelve years ago, in a conversation with Raj Attiken, former Ohio Conference president, I was challenged by a statement he made," says Dean Cinquemani, pastor of the Christ Our Righteousness (COR) church in Olmstead Falls, a suburb of Cleveland. "He thought it would be interesting to see a church become a viable presence in their community; a presence that made a measurable mark that would be missed if they closed up and left. ... That inspiration has driven this [program], as I see that model in Christ every time I open the Word."
For several years, the church has tried different health outreach focuses including the "Full Plate Diet" cooking program. Three years ago, Dr. Polly Dengel, COR member and health outreach leader, urged the church to use the Forks Over Knives  method that advocates the a plant-based, whole food diet for stopping and reversing heart disease. Their renamed "Eating to Live" series began showing the Forks Over Knives movie on Saturday night, followed by four two-hour classes during the next two weeks.
The classes begin with a 20-minute -cooking demonstration, followed by a one-hour health lecture. Each class concludes by eating a dinner of the demonstrated dishes. "We never know how long we will be each evening as the participants often stay to talk late into the evening," notes Cinquemani.
Participation has grown so much that COR had to add another class in the early summer; and recent classes have been running at full capacity of 60-80. COR does not charge for classes, but accepts donations.
"I am very clear as we go along that it is our relationship with Christ that drives us to love the community and seek to help others to better life in all facets: spiritual, health, family, financial—and anything else we can find," stresses Cinquemani. He is currently working on a special study for some who have expressed interest in "knowing the God that has inspired us to care."