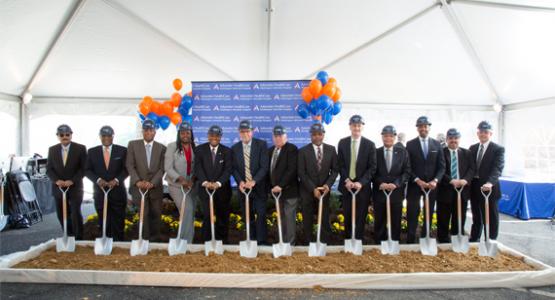 Adventist HealthCare Breaks Ground on New Washington Adventist Hospital
March 07, 2016 ∙ by vmbernard ∙ in Columbia Union News, Adventist HealthCare
Story by Adventist HealthCare Staff
The healthcare sector is expected to add the most jobs in the U.S. over the next several years, according to the U.S. Bureau of Labor Statistics. Adventist HealthCare brings this economic and job growth to the Washington, D.C. region as it begins a $331 million project to build the new Adventist HealthCare Washington Adventist Hospital in the White Oak area of Montgomery County. More than 300 community members and elected officials gathered today to celebrate the groundbreaking of the new hospital.
Adjacent to the U.S. Food and Drug Administration's (FDA) headquarters, the new hospital is at the center of the White Oak Science Gateway, a developing life sciences community bringing together medical researchers, businesses and retailers—projected to contribute $5 billion to the state's economy. The hospital will create nearly 7,500 jobs between construction and hospital operations, according to an analysis by Stephen Fuller, PhD, director for the Center for Regional Analysis at George Mason University (Va.).
"The groundbreaking for the hospital is another great milestone in the rejuvenation of the eastern part of our county. It will create thousands of jobs while the hospital is being built and after it begins operations," said Ike Leggett, Montgomery County Executive. "It will also inject more than $800 million into the state's economy in construction alone, with most of that going to our local jurisdictions."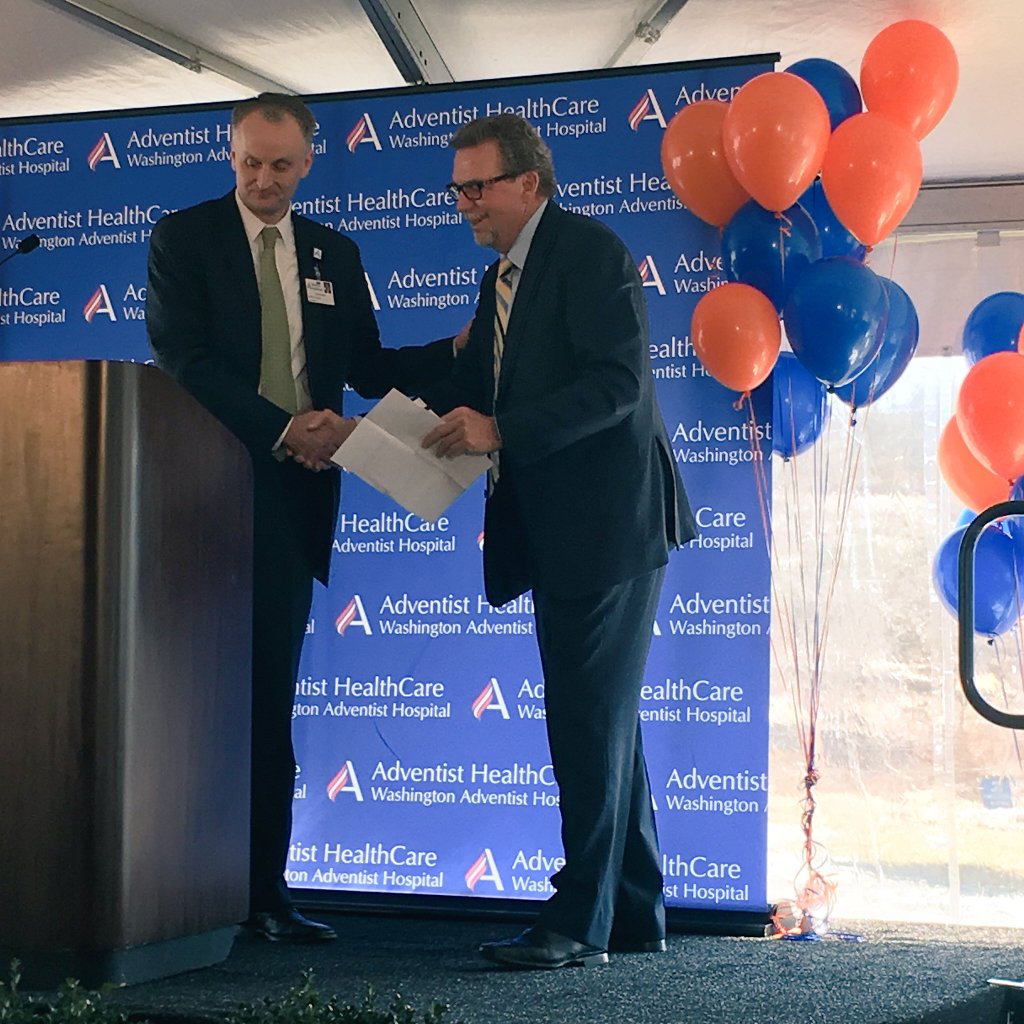 The new hospital will also expand access to patient care in the region. Washington Adventist Hospital will move its acute-care operations to the newly constructed 170-bed hospital, estimated to open in early 2019, while retaining its current location in Takoma Park to provide other healthcare services.
"Today, we break new ground, expanding our more than 100-year commitment to the community," said Terry Forde, president and CEO of Adventist HealthCare. "Our Takoma Park site has always been, and continues to be, a place of healing, renewal, discovery and compassionate care—a legacy we will continue in our future. The new hospital expands on those key values."
Washington Adventist Hospital, the first hospital in Montgomery County, Md., is part of the Gaithersburg-based Adventist HealthCare, the largest provider of healthcare services in Montgomery County. It is recognized as a national leader in cardiac care and performed the first heart surgery in the D.C. region in 1962.
Highlighting the significance of the new hospital for this region and the entire state of Maryland, several other elected officials and FDA representatives joined Leggett.
"I was honored to join FDA officials, Montgomery County Executive Leggett and Adventist HealthCare to break ground on the new Washington Adventist Hospital in White Oak," said U.S. Rep. John Sarbanes (D-MD). "By bringing federal, state, local, and private-sector resources together, we can expand access to high-quality healthcare in our community and bring more jobs and economic opportunities to Maryland."
Key leaders and supporters donned hard hats and grabbed shovels to take part in the ceremonial groundbreaking.
"As we sink our shovels into new ground this morning, we are officially kicking off the construction for Adventist HealthCare Washington Adventist Hospital in White Oak," said Erik Wangsness, president of Washington Adventist Hospital. "I would like to thank our employees and physicians who are enthusiastic about our future and committed to our mission. "I also thank our elected officials and other community leaders and supporters. This is a blessed time in our 108-year history."
To learn more, go to www.ourcommunitytransformed.org.