October Visitor Cover Story: Fully Fed
September 26, 2013 ∙ by cwhittingham ∙ in Pennsylvania Conference
In Reading, Pa., one church nourishes hungry neighborhood children—physically and spiritually.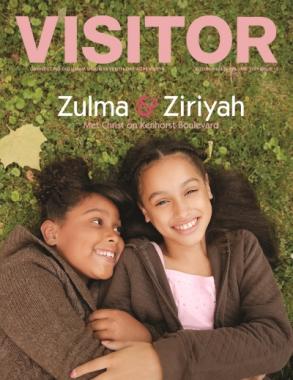 Story by Debra McKinney Banks
Jesus loves the little children/All the children of the world ... Strains of the familiar song virtually echo down dim corridors of Pennsylvania Conference's Kenhorst Boulevard church—fading into the air and mingling with the clank of pots and pans as members sweep up crumbs, wipe away spaghetti stains and straighten chairs in preparation for another day. Annette Wilson wipes off a bead of perspiration and wearily straightens her 76-year-old back as she scoots in one last chair to a long table, checking to make sure everything is ready.
           
Wilson and other members are tidying up after Friday evening's Youth Connection, which includes dinner, a skit and Bible study. Youth Connection always kicks off a fun, Spirit-filled round of Sabbath activities for the 20-30 children who attend this small church in Reading each week. The members also provide Sabbath School, children's church, AYS (aka "Sabbath afternoon church"), Wednesday night prayer sessions and summer camp.
           
"It wasn't always this busy," says Wilson, recalling her first days as a Kenhorst member. "Whenever I go to a church, I look at the scenario: Where are the children? Where are the young people? Where is the Cradle Roll? If you don't have young people in your church, your church will die." After stumbling upon a beautifully outfitted, but sadly unused Cradle Roll room, Wilson made a startling request, which raised a few eyebrows and nervous chuckles from the aging congregation: "I need some babies to fill this room!"
           
While she didn't get the babies she requested, God was already using Elsa Perez, another faithful Kenhorst member living near the church, to pave the way for what has become a thriving children's ministry.
 
"Ms. Elsa's" Kitchen
Located a few blocks away from the church is the Oakbrook public housing development, home to many families from various parts of Latin America: Guatemala, Honduras, Puerto Rico and the Dominican Republic. For nearly two months, "Ms. Elsa," who is also Dominican, provided hot, nourishing meals from her kitchen each week to "many, many kids" whose families were struggling to make ends meet. "I [would] try to find space for them in the kitchen, on the floor, sitting on the couch—wherever I could find a chair. It was a lot! They loved coming to my home," she recalls.
           
But, she wanted to do more than just feed their hungry stomachs; she wanted to feed their souls. "They wanted to learn about Jesus. They asked a lot of questions," she remembers. Overwhelmed, Perez approached Wilson and invited her to help. Together, they got the local housing development to offer space for the group to meet, where the church volunteers continued to minister to the little ones for more than a year. That's when Wilson's husband, Clarence, suggested the ladies move the activities into the basement of their nearby house.
           
Soon, Friday nights at the Wilsons became time for food, songs, Bible stories and Scripture memorization for the 5- to 12-year-olds who gathered there each week. They planted seeds, and as word spread, more children attended, and Wilson realized that this had potential to become something big. After two years at their home, it was time to get the church involved. Joining forces with Youth Connection seemed the obvious choice.
Connecting Local Youth  
Youth Connection is a program the church originally intended for kids aged 12 and up. Fred Morgan—a retired teacher and first elder at Kenhorst—creates skits and corresponding Bible studies to engage them on Friday evenings.
           
"Seeing the kids learning about the history of the Bible, hearing them pray—it's very moving," says 18-year-old Kayro Tanis, who was baptized last year. At his father's suggestion, he started attending Kenhorst to enhance his English skills. (His parents are from Haiti.) He later approached Morgan for more in-depth Bible studies.
           
"He accepted everything, but there was an issue with the Sabbath," Morgan explains. Tanis sometimes played sports on Sabbath at the public school he attended. "When I asked him about baptism, he said he wasn't ready yet," Morgan adds.
           
Six months later, Tanis gave his heart and life fully to the Lord. "It brings me joy to see other children learn about God," he says. "It's exciting!"
           
Incorporating the younger children into the opening skit segment each week provides opportunity for the two age groups to worship together, and has become a high point for the kids. Occasionally, the youth also put on larger performances for the church.
           
Ten-year-old Ziriyah Rodriguez and her younger sister, Zulma, look forward to these weekly gatherings. "I really like doing the skits," Ziriyah says. "I work really hard and make time to learn my parts." Their mother, Evangeline Vasquez, is also thrilled to see the changes in Ziriyah's behavior and the relationships the girls have formed with others as a result of attending the programs and the church's school, Reading Junior Academy, where their tuition is sponsored by church members. "[Ziriyah] has become more knowledgeable about the Bible and God, and loves to share it," says Vasquez, who is now taking Bible studies.
"Cool" Summer Outreach
During summers, it was often difficult to maintain the weekly programs as Kenhorst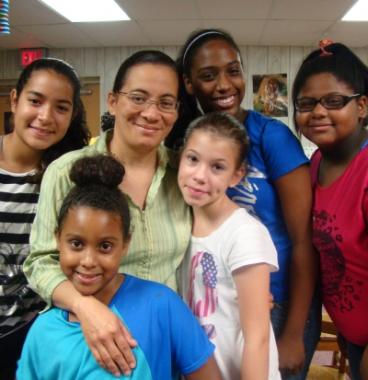 members left for vacations and other seasonal events. But, those running the kids' programs didn't want to lose momentum with the contacts and connections they made with the neighborhood children. So, they signed up to participate in a pilot program now called Cool Camps, a traveling summer day camp sponsored by local churches within the Pennsylvania Conference. Cool Camp hires youth from around the conference to provide six weeks of VBS-style programming—arts and crafts, sports and swimming. Each participating church gets camp staff for one week before they move on to the next assignment.
           
Camp staff serve "rough, tough kids from the projects, but they are in such need of love!" exclaims Javier Mendez, Cool Camp director. He reports that a record 96 children, aged 5-11, attended this past summer's camp at Kenhorst—the church's fifth year participating. And, about 85 percent of the attendees are not from Seventh-day Adventist families.
    
"Sometimes with these little kids, you think, 'Are they really getting it?' You know, the Bible stories, etc.," he explains. "One year, for the first time, I felt impressed to make an [altar] call. I asked, 'Who wants to accept Jesus Christ as your Savior? Come up to the front with me so we can pray.' I was floored! Kids kept coming and coming—crying and weeping. Counselors [prayed] with the kids, [with] the Holy Spirit impressing on them what to even pray for! It was a powerful experience!"
   
The Cool Camp feeling continues during the school year on the second and fourth Sabbath afternoons. After potluck, students from neighboring Blue Mountain Academy conduct the "Sabbath afternoon church" program, where they lead out in crafts, outdoor activities and Bible games.
 
Fishers of Children 
Ever Perez, the first Hispanic, bilingual pastor for the church, is enthusiastic about Kenhorst church's thriving children's and youth ministries. He and his family—wife, Dixie, and daughter, Kailey—all take an active role in the increasingly popular Wednesday night prayer meeting services. Many of the neighborhood children are now attending this program as well, and have grown the nightly attendance exponentially.
           
Even at 6-foot 2-inches, Pastor Perez will sit on the floor surrounded by the children. Animated and lively, he easily holds the kids' attention throughout the PowerPoint Bible story presentations he creates using colorful, even humorous, pictures. Dixie prepares quiz questions to ask during a rousing post-game challenge to help reinforce the lesson. Downstairs, Kailey does crafts with the younger children.
           
"Many of [the neighborhood children] have no biblical foundation," explains Pastor Perez. "We keep it simple—10-15 minutes for the story, then the game for another 15 minutes. It really gets solidified into their minds this way. They still remember stuff we taught them months ago!" He says the children are hungry for God's Word, and are eager to share the love of Jesus with others.
           
"A girl in my neighborhood wanted to pray for her grandma and her family but had never prayed before," Ziriyah shares. After learning about prayer during one of the children's meetings, Ziriyah taught the little girl how to pray. "I showed her that when you pray, you have a beginning—'Dear God'—then the 'body,' where you tell Him [anything], and then end it—'in Jesus' name, Amen.'"
           
Today the Wilsons, Elsa Perez, Fred Morgan, Javier Mendez, Pastor Perez and their dedicated volunteers—fueled with a strong desire to work with children—are the backbone of this thriving ministry conglomerate that's filling the Cradle Roll room and a few others. Their recipe for success remains a hot meal (often provided by generous members who pay out of pocket); simple, fun programs; and solid, relevant biblical instruction; all sprinkled generously with love—including lots and lots of hugs.
 
Red, yellow, black and white—all are precious in His sight …
 
Debra McKinney Banks attends the New Joy Fellowship church in Hagerstown, Md.
Click here for 5 ways Kenhorst is building community relationships.