Mountain View's Junior Chefs Kick Parents Out of Kitchen
October 23, 2013 ∙ by cmckenzie ∙ in Mountain View Conference, Health & Lifestyle
Story by Gabrielle Baker
Tisha, 6, holds up a work in progress—whole wheat bread in a bag.
Children came away from a one-week program held at Mountain View Conference's Braxton church in Gassaway, W.Va., excited about BLT. No not that kind of BLT, but the three-part Bible Lifestyle for Today (BLT) program that combined songs and dramatized audio Bible stories, information about anatomy and a hands-on cooking class.
 
Much like the contestants on Master Chef Junior, the Fox television show, Braxton youngsters armed themselves with hats and aprons, then cut onions, mashed avocados, kneaded bread and grinded nuts into butter. Some dishes were a hit—others not so much—but each child enjoyed putting together the meals themselves. Unanimously, Friday was the favorite as the student chefs enjoyed their own handmade pizza and ice cream sandwiches!
 
Unlike the aforementioned television show, Braxton's junior chefs cooking segment was accompanied by a health segment where they would learn about things like their digestive system. Holding 20-foot PVC piping gave them an idea of the length of the small intestine, while the videos gave the final overview.
 
Sunday's graduation was indeed a celebration for Braxton as family and church members came out to see the prim and proper young chefs receive their certificates, cookbooks, and now-white chef's attire. They also presented a Scripture song from 1 Corinthians 6:19-20, which they had learned during the program. Then for fellowship—the certified chefs made trail mix for the waiting guests.
 
Now these young people are equipped to take charge of their health. A few weeks later, one of the chef graduates shared, "We kicked [our parents] out of the kitchen." He went on to say that with some assistance, he and his siblings now cook regularly.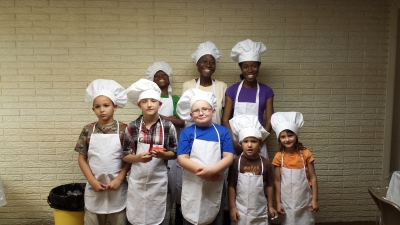 The junior chef graduates received certificates, cookbooks and proper chef attire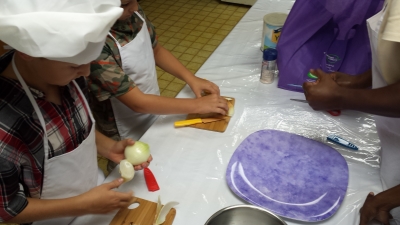 Young sous chefs get veggies ready.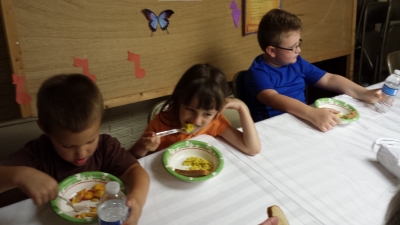 Participants taste the final product.