Is the Church Engaged in Public Policy Discussions? And, Should We Be?
October 23, 2013 ∙ by cmckenzie ∙ in Columbia Union News, Perspectives
Story by Billy Errico; Photo by Michael McKinnis
Where does our church stand on some of today's most talked about issues?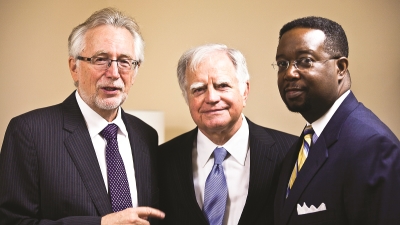 Religious Liberty Advocates (L-R) : John Graz, Public Affairs and Religious Liberty (PARL) director for the General Conference; Walter Carson, PARL director and legal counsel for the Columbia Union Conference; and Orlan Johnson, North American Division PARL director. 
Seventh-day Adventist Church leaders have advocated for religious freedom for well over 100 years, but what about other important societal issues, like the sanctity of marriage, capital punishment or conscience protections for physicians in the recent healthcare debate? Certainly, the church is in a unique position to offer sound and ethical advice to policymakers, but should we follow the example of early church leaders who intensely engaged policymakers over prohibition and dietary health reform?
           
Although church founders James and Ellen White warned members about political preoccupation, they found temperance reform to be of particular importance to the church. The Whites often spoke on the dangers of consumption and worked with like-minded individuals and groups to help establish health and temperance societies. They also viewed a campaign against national Sunday laws as a "duty … to arouse to action" (Counsels for the Church, p. 336)
 
Making Official Statements
           
Today the church is more engaged in political discussions than most members probably realize, says Melissa Reid (below), executive director for the North American Religious Liberty Association (NARLA). "The church has commented on a number of issues, including more controversial matters," she explains. "Take family planning. While it may not necessarily be a priority currently, the church has issued a statement."
    
These policy statements are also important tools when contemplating public advocacy. "If there's a pending issue before the state legislature on a topic like family life, we will refer to these press releases as we formulate our response here in the Columbia Union," adds Gary Ross, (above) assistant to Walter Carson, the Columbia Union Conference's vice president for Public Affairs and Religious Liberty (PARL).
 
Engaging in Advocacy
           
The church uses public advocacy to educate community leaders and policymakers on important issues. For instance, the General Conference's PARL office works with United Nations and world ambassadors, heads of state and leaders of faith communities to endorse human rights, health, education, women's rights and religious freedom for all faiths.
           
Church experts monitor religious liberty discrimination in the workplace and seek accommodations. They also sign amicus briefs in support of, or in opposition to, pending litigation.
           
Within the Columbia Union, the PARL staff monitor pending legislation before state legislatures. If an issue like the recent marriage debate arises in the Maryland General Assembly, the office will work with community leaders and faith-based organizations, prepare committee testimony and raise awareness for church members. "We lobbied the state legislature and worked with our coalition partners," Ross notes, referring to the marriage debate. Although the legislation ultimately passed, the effort did establish an important conscience clause. "Religious organizations and their personnel do not have to officiate or host ceremonies that violate their beliefs," Ross explains.
 
Forming Partnerships
           
Through faith-based and community partnerships, the church maintains open lines of communication with policymakers and community leaders so that expertise and perspective can be shared and our religious freedoms protected. The church also participates in religious liberty round tables that allow our denomination to work closely with other faith groups to pool resources and discuss legislative approaches.
           
"We recognize that there are local public policy issues that may not fit in a traditional religious liberty category but are important to church-state relations," adds Carson.
           
For instance, working with the Maryland Interfaith Legislative Committee and the Central Maryland Ecumenical Council provides an opportunity for the church to speak out on religious and social issues at the state level. It also promotes interfaith dialogue and name recognition.
 
Why Focus on Religious Liberty?
           
Although there are many important issues confronting our church community, church leaders remain focused on protecting and advocating for religious freedom because, as the Statements, Guidelines and Other Documents by the Seventh-day Adventist Church manual reads, "A society that respects religious liberty is more likely to tolerate diverse political views and show greater respect for the individual."
           
It is also partly because of our understanding of end-time events, says Carson. "I believe all liberties are important, but religious freedom goes to the heart of our beliefs as Adventists," he explains. "Bible prophecy and counsel by Ellen White clearly show that religious freedom will be infringed upon during the last days."
           
Religious liberty also reflects Christ's nature. "He gives us the freedom of choice. The church believes it should work to preserve this freedom for others," says Reid.
           
And, our Protestant heritage plays a role. "Like the reformers, the Adventist Church respects the free will of the individual, and tends not to take stands on issues unrelated to core beliefs or doctrines," adds Reid. "Members should be free to exercise their own conscience rather than merely accepting the dictates of the corporate church."
 
You Can Make a Difference
           
Church leaders say they aren't the only members who should join conversations about public policy. In Testimonies for the Church, Ellen White wrote, "We are not doing the will of God if we sit in quietude, doing nothing to preserve the liberty of conscience" (Vol. 5, p. 713).
           
The apostle Paul said, "Let everyone be subject to the governing authorities, for there is no authority except that which God has established. The authorities that exist have been established by God" (Rom. 13:1, NIV).
           
Education is probably the most important tool for decision-making, says Reid. "An informed citizen is better situated to respond. Look at both sides of an issue.
Ask, 'How does it relate to our Christian faith, and do our values support the cause?'" she says.
           
"We are citizens and should take our civic responsibility seriously. I believe this means everything from praying for our leaders, to paying taxes, to casting a thoughtful vote, to understanding our country's history," states Ross. The key, he suggests, is a proper balance between our religious obligations and civic responsibilities.
           
Civic responsibility extends well beyond voting and writing our representatives. Church organizations like NARLA provide an excellent opportunity for congregants to be involved in public policy discussions. They provide in-depth analysis on legislation and trends and coordinate member events, grassroots mobilization and educational awareness, including an annual Capitol Hill advocacy day in Washington, D.C.
           
Civic involvement also means being visible in the community. "This is consistent with Christ's life," observes Carson. "He reached out to people and helped them. We should not be so far removed that we are not a part of our community."
 
PARL's Tips for Becoming a Better Advocate
1. Tune in to the weekly Talking About Freedom digital podcast, where academics, lawyers, authors, newsmakers and other headliners discuss interesting and timely church/state issues. Visit columbiaunion.org/talkingaboutfreedom.
 
2. Subscribe to Liberty magazine, which provides analysis on religious freedom issues and pending litigation to American policymakers, judges and community leaders.
 
3. Build relationships with your local politicians to lay the groundwork for later advocacy opportunities.
 
Read these related articles:
What Can You do About Sabbath Issues at Work?
Where does our church stand on some of today's most talked about issues?
 
Religious Freedom: A God-Given Choice
 
Your Turn
How involved should our church be in public policy?  Tell us at facebook/columbiaunionvisitoror tweet@VisitorNews.