As Youth Witness in Philadelphia, Faith Becomes Their Own
August 21, 2012 ∙ by cwhittingham ∙ in Pennsylvania Conference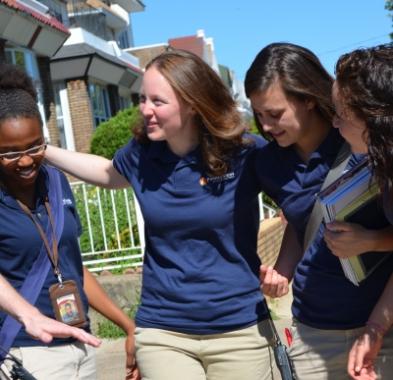 Story by Celeste Ryan Blyden​
It's a hot, sunny, summer afternoon in Philadelphia, perfect for lunching with friends or lounging by the pool. But that's not where you'll find Maile Hoffman. Clad in tan pants, a navy blue shirt and sneakers, this 18 year old is on a mission, and there's nothing else she'd rather be doing. Donning a shoulder bag, a two-way radio and plenty of "bread" (sharing books), she makes her way down 68th Avenue, climbs the stairs of the house on the corner, rings the bell and waits. Moments later a woman emerges and Hoffman, a member of Pennsylvania Conference's Harrisburg church and a recent graduate of Blue Mountain Academy (BMA) in Hamburg, Pa., flashes her signature smile and opens her bag. A short while later, the woman purchases a book, Hoffman prays with her and heads to the next home.  
"Sometimes we're the only Bible that people read," she says. That's why she's spending her summer living with a host family, canvassing Philadelphia's neighborhoods and sharing her faith.
Hoffman is one of 31 youth participating in the 2012 Pennsylvania Youth Challenge (PYC) headed by Tara VinCross, senior pastor of the Chestnut Hill church here.
PYC, Pastor VinCross shares, is a program for youth and young adults, where they are discipled in what it looks like to follow Jesus and serve Him. "For nine weeks they are immersed in Bible studies and devotional habits where they learn how to read and understand the Bible for themselves, prayer journaling, sharing testimonies door to door, meeting strangers and sharing the love of Jesus with them and doing community service projects. The bulk of their time is spent going door to door sharing the good news of God's love and of Jesus' soon return," she explains. In the process, "their faith becomes their own, they take hold of Jesus for themselves and they get to see what it looks like for Him to use them."
Since she started the program in 2009, 100 young adults have participated from across the conference and beyond, and VinCross has seen God take hold of many of them, including Giselle Satterwhite, 21, a nursing student at the renowned Temple University in center city. She was down and depressed until two friends started giving her Bible studies. When she joined VinCross's PYC team, she says her life was transformed. "Just seeing how God is using me here strengthened my faith," she says. "He's faithful, and I feel like this is what I'm supposed to do with my life."
So does her friend Delon Lawrence, 24, who earned a telecommunications and broadcasting degree from Temple, but now serves as one of seven ministry interns who live and work in this community at one of two ministry houses donated by Chestnut Hill church members. "You can do God's work in corporate America, but I believe God called me to do hands-on work in the field," he shares. One way he does that is by engaging in a barber ministry in the community. This allows him to connect with residents, engage them in spiritual conversations and invite them to his home church—REACH Philadelphia.
REACH Philadelphia is a church plant that meets at a community recreation center about 20 minutes from the Chestnut Hill church and doubles as an internship program for young adults like Lawrence who feel called to ministry. Each week, they invite people who come to the playground or basketball courts to eat lunch with them. Then they engage these visitors in Bible study and prayer followed by a worship service with a message by VinCross or one of her associate pastors. "It's very interactive and down to earth," she says. "We're uplifting Jesus there, and people are drawn to that. It's a fun location that God has brought us to be because we get to interact with so many people." 
What started as a small group meeting on Friday nights in her living room now includes 40 people worshipping in a community recreation center on Sabbath afternoons. After about a month, the director told them, "You're actually about the community, so we don't feel comfortable charging you."   
New member Justin McLaughlin, 20, is glad they're "about" the community because that's where he was before he found his way to REACH and to God. Shortly after his baptism into the Seventh-day Adventist faith in March (an interesting story in itself), he joined the fledgling church plant and has been working to reach others fulltime.
"When I found God, I finally found everything I was searching for; I know others are searching for the same thing and I just want to share [Christ] with them," he says. Participating in the PYC and REACH programs as a ministry intern is helping him grow in his newfound faith. "It's a great process; it made me realize how much closer I need to grow to God; it's taught me more about trusting Him and it has strengthened my faith and prepared me for ministry."
And that's what Pastor VinCross and her Chestnut Hill church leaders envisioned some five years ago when they launched this initiative. "This quaint, beautiful church has been here for 60 years in the second wealthiest neighborhood in Philly, and though consistent, they'd never seen God do dramatic things for His kingdom here," she recalls. She and her leaders prayed, read about the early church in Acts, studied Ellen White's call for mission to the cities and watched to see what God would do for them and through them.
Today they have a thriving 200-member church with numerous ministries and a vegetarian supper club, two ministry houses, a ministry internship program, the REACH Philadelphia church plant with a regular attendance of 40, and a slew of baptisms to show for it. They also organize the Pennsylvania Youth Challenge in cities across their conference. For VinCross, this is nothing short of an answer to prayer. "Watching what happens when people see that God loves [them] and He wants to use [them] is why I'm in this," she admits. "It's completely why I'm here."
She's also here for the youth, not only serving as their pastor but as their mentor, motivator and cheerleader. After rejoicing with Hoffman over her experience, she heads down the street to see how another of her summer charges is faring.
Joan Batiz-Hernandez is just 16, a junior at BMA, and a member of the First Spanish church of Philadelphia. She can't wait to update Pastor VinCross on her experience. She recounts how she was walking down her assigned street when she noticed an older couple getting into their car. She sold them Peace Above the Storm and then started showing the wife the contents of the book. When she flipped to a hymn, she started singing and the woman started singing with her because she remembered some of the words. After enjoying the moment together, they laughed, prayed, hugged and the couple drove away.
"Wow!" exclaimed Batiz-Hernandez. "I feel like they were here waiting for me. … God is so good. … This is not a job that gets old because there [are] people searching for something, and I'm glad God can use me to bring them a Hope they didn't know."
Learn more at vimeo.com/paconference.