Visitor Publishes Special Issue on Ordination, Members React
July 11, 2012 ∙ by cwhittingham ∙ in This Month's Issue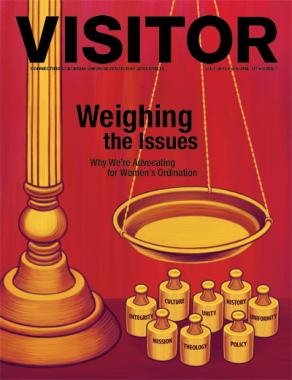 Story by Celeste Ryan Blyden​
This month the Columbia Union Conference published a special issue of the Visitor magazine themed "Weighing the Issues: Why We're Advocating for Women's Ordination." According to Visitor editor and publisher Celeste Ryan Blyden, the objective with this special issue is threefold:
1. To help members know why the union's leadership is advocating for women's ordination,
2. To educate readers on the history surrounding women's involvement as ministers and our church's actions around this issue to date, and
3. To answer the most common questions received in response to the union's announcement last month that a special constituency session is planned for July 29 to seek approval to ordain proven ministers without regard to gender.
To facilitate the wider conversation, the communication staff also set up special web pages in English, Spanish and French so interested members can review the special issue, access additional resources, link to related documents and share comments.
Members Weigh in on Ordination Discussion
People across the Columbia Union are talking about this special issue as well as  the union's announcement that it will hold a special constituency session July 29. "The July issue of the Visitor reminds me of the best days of [Seventh-day] Adventist communication. It deals with an issue that many a church member is talking about and wondering what actually is at play, but doing [so] in the spirit of openness," wrote Potomac Conference member Rajmund Dabrowski on the union's website. It also caught the attention of Tara VinCross, Pennsylvania Conference pastor, who emailed: "When I got [it] in the mail yesterday, I read every article!"
Comments are coming via email, Facebook and on the union's website where, to date, more than 75 have been posted on a comments page designed to facilitate a wider conversation on the matter, including this one from Joann: "I never for one moment believed that there was any leader in this church that w,ould stand up for righteousness/justice though the heavens may fall.  And here they are before my very eyes—my own union leaders.  It brings tears to my eyes each time I think about it."
On Facebook the number of people talking about the Visitor rose by 140 percent and the total reach increased by 182 percent.  Not everyone was sharing positive feedback. "When I read the announcement of the special constituency in the CU Visitor I was stunned, and felt somewhat ashamed, that my union would take upon themselves the authority to decide on an issue that clearly is not in the best interest of church unity," wrote Vince. He and several others shared suggestions and counsel.
Overall, nearly 1,500 new visitors logged onto the union's website during the last 10 days, most to read the articles related to this subject. To join the conversation, visit www.columbiaunion.org/2012specialconstituency.