Former WGTS Radio Host Dies at 83
July 05, 2012 ∙ by vmbernard ∙ in Potomac Conference, Washington Adventist University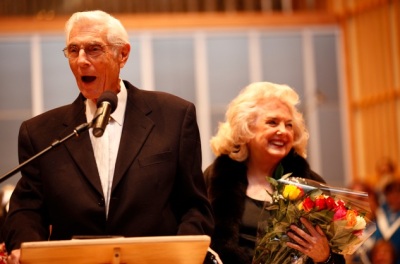 Story Barby Kulakov
Long time radio host Gerry Fuller, DDS, died Sunday, July 1, at the age of 83. Fuller, a member of Potomac Conference's Sligo church, was best known as host of the Saturday morning broadcast, Breakaway, at Washington Adventist University's WGTS 91.9 FM radio station in Takoma Park, Md. For 45 years people tuned in to WGTS to listen to Fuller's familiar voice and hear fascinating interviews with well-known guests such as Ben Carson, Charles Stanley, Philip Yancey and many other public figures.
Fuller was born in Minnesota to two Seventh-day Adventist church schoolteachers. His parents moved to California soon after his birth where Fuller lived for most of his young life. He graduated from Pacific Union College (Calif.) with a degree in speech and then spent several years as a television announcer in Northern California. After moving to the Washington, D.C.-area, he received his degree in dentistry from Howard University. Fuller worked as a licensed dentist for many years and served as president of the WGTS radio station board.  
Fuller retired from WGTS in fall 2011, just before his 82nd birthday. Following his retirement, the Gerry Fuller Mission Outreach Fund was established to mentor Christian radio stations throughout the world and teach them how to better spread the Word of God. 
Despite being regarded as a powerful figure, Fuller was also considered a friend. At Fuller's 2011 retirement celebration, John Konrad, current general manager of WGTS shared his close relationship with the longtime legend saying, "Gerry has been a constant source of support and inspiration to me since I started working at WGTS in high school. And even then though Gerry has been my boss for years, he's been more like a brother to me."
Fuller's wife, Joy, his three children, Gerri Ann, Jon and Jay, as well as his two grandchildren survive him. The radio station will air a special tribute to Dr. Fuller on WGTS 91.9 at 9 a.m. Saturday, July 14, and Sligo church will host a memorial service at 4 p.m.