After Super Storm Sandy, New Jersey Members Lend, Get a Helping Hand
November 07, 2012 ∙ by cmckenzie ∙ in New Jersey Conference
Story by Taashi Rowe; photos by Jim Greene
Pictured below: Church members in Southern New Jersey sorting food basket at the Vine Haven School in Vineland.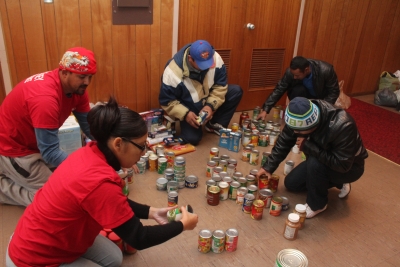 "I've never seen anything like this before," said Claudia Ramirez, whose colleagues had just dropped her at home. They spent the day delivering 300 personal care kits to a shelter in Northern Burlington County, New Jersey. "I've seen a family lose a house or a few families lose their homes to fires, but nothing like this. This is very different. These were hundreds of people who just lost everything because of Sandy."
Ramirez is the New Jersey Conference's  Adventist Community Services Disaster Response (ACS DR) coordinator and has been involved in this ministry for close to a dozen years. Although Sandy, which was downgraded from a hurricane to a super storm, battered much of the East Coast, it hit New Jersey hard. The storm flooded many homes across the state, brought down power lines and piled sand on the roads.  
The ACS DR team members said it was sobering to meet people that day who had lost everything. Click here to see a video from that day. "Some people were understandably distraught while others were weathering it well," said Mike Gill, the conference's ACS director.
Times like these are exactly why the conference's disaster response team was prepared. They brought personal care kits filled with necessities like washcloths, combs, soaps, toothbrushes, toothpaste and deodorants. They also delivered toys to the kids.
At the conference office in Lawrenceville, the disaster response team keeps a very long cage with floor-to-ceiling shelves stocked with kits. Throughout the year, volunteers come in and sort and pack the items. In the event of a disaster ACS DR volunteers are ready to respond to calls from state and local agencies asking for their help with donations management, which is their specialty.
Local Churches Pitch In
While ACS DR teams are vital in times of great need, local churches have also pitched in to help. One Friday evening after the storm, Carlos Torres, pastor of the Atlantic City, Vineland and Panamericana Spanish churches, and some of his members contacted fellow church members in southern New Jersey. They wanted to take items to those hurting in Atlantic City. Members responded by texting their friends and making appeals on their Facebook pages.
And on Sabbath afternoon, members from several churches brought food and clothes to the Vine Haven Adventist School in Vineland. In about 90 minutes, Pathfinders and church members sorted bags of clothes and food baskets to deliver to Atlantic City.
When church members pulled into a field near the beach and parked, residents started to come out of the surrounding buildings to get a hot meal and some clothes. The people were cold and tired from not having electricity in their homes and apartments, so these church members were a welcome sight.
Gill, who also pastors the Laurelwood, Woodbury and Cherry Hill churches, noted that when members do this kind of work, "They are really serving as the hands and feet of Jesus. And those in need to see a sermon in shoes and work gloves."
 
Pennsylvania "Blessed"
"The Commonwealth of Pennsylvania has been blessed with much, much less damage than our sister states of New Jersey and New York," reports Jeanette Dare, ACS director for the Pennsylvania Conference. "Most of the damage continues to be power outages and large trees downed, causing blockage of roads and damage to homes." There was also minor damage to Blue Mountain Academy (BMA) in Hamburg.
 
In response, Pennsylvania church members are working to help their more affected neighbors to the north. They are collecting toys and books for children as well as cleaning supplies for kitchens and bathrooms. According to Dare, they will pack the kits at BMA, before sending them on to New Jersey.
 
New Jersey's ACS DR team is also requesting gift cards so those affected can purchase cleaning supplies. Click here to make a donation or send a check to the conference office at 2303 Brunswick Ave. Lawrenceville, NJ 08648. Make the check payable to "New Jersey Disaster Response." This Sabbath local churches across the North American Division will also collect a special offering for victims of super storm Sandy.
 
New Jersey's ACS DR also trains volunteers to work in the warehouses that are often set up after disasters. So far there are around 120 trained members throughout the state. To sign up for classes, email Ramirez at CARami4144@aol.com.
Jim Greene contributed to this story.