16 Female Pastors Approved for Ordination
November 08, 2012 ∙ by cmckenzie ∙ in Chesapeake Conference
Story by Visitor Staff
Pictured below: Bill Miller (right), president of the Potomac Conference, presents Debbie Eisele, a pastor at Sligo church in Takoma Park, Md., with her ordination certificate.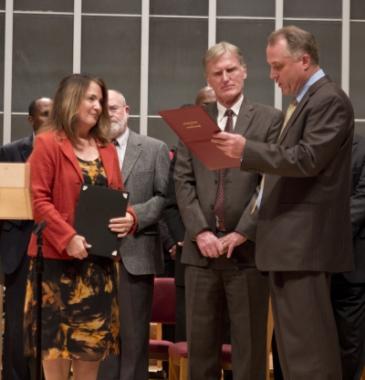 Following the Columbia Union Conference Special Constituency's historic July 29 decision to ordain pastors without regard to gender, the union executive committee voted to approve the ordination of 16 women pastors. The women include Allegheny East Conference's Rosa Taylor Banks, Brenda Billingy, Paula Olivier and Lisa Smith-Reid; Ohio Conference's Linda Farley, Lori Farr, Sandra Pappenfus and Carmen Seibold; and Potomac's Karen L. Cress, Sharon Cress, Jennifer Deans, Debbie Eisele, Cherilyn O'Ffill and Sonia Perez. The vote included emeritus credentials for Chesapeake Conference's Charlotte McClure and Josephine Benton, the first female pastor presented for ordination in 1973.
 
The ordination approvals took place just days before this year's General Conference Annual Council, where a voted document regarded the actions of the Columbia Union (along with that of the Pacific and North German union conferences, whose constituents also approved inclusive ordination) "as serious mistakes." The statement also said, "The world church does not recognize actions authorizing or implementing ministerial ordination without regard to gender."
 
Shortly before the Annual Council discussion, the union's three officers, Dave Weigley, president; Robert Vandeman, executive secretary; and Seth Bardu, treasurer, released a statement appealing for understanding stating,  "We believe that God calls whom He chooses and our responsibility and privilege is to fully recognize His proven calls … While we in no way wish to force others to take this step, we believe it is necessary in our field and in the context of the culture in which we minister."
 
Despite the world church's response, Celeste Ryan Blyden, union spokeswoman, says union leaders are encouraged. "Thanks to the courage of the leaders and constituents in three unions, after 17 years, this topic is back on the agenda of the worldwide church," she said. "It's being studied, discussed, preached about, prayed about, and will be a priority for the leadership in 2014. That's progress, that's movement, and we are encouraged."
 
The world church recently launched a study on the theology of ordination that is now expected to explore women's ordination as well. Two union representatives—Stephen Richardson, Allegheny East Conference Ministerial secretary, and Pennsylvania pastor Tara VinCross—will participate in the North American Division's study committee.