WGTS Honors Radio Host's 45 Years of Ministry
November 03, 2011 ∙ by cmckenzie ∙ in Washington Adventist University
Story and photos by Vanessa Castillo
Pictured below: John Konrad (foreground), WGTS station manager, presents Gerry Fuller with a token of appreciation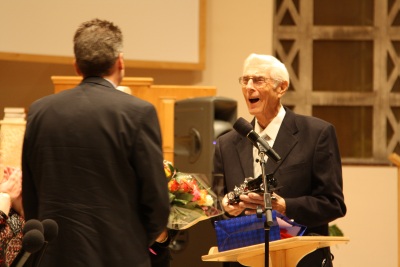 For decades people throughout the Washington, D.C., area who turned their radio dials to Washington Adventist University's WGTS 91.9 FM on Sabbath mornings, have immediately recognized voice of Gerry Fuller, DDS. Over the course of 45 years, this WGTS radio host has interviewed famous authors, performers, medical experts and countless other public figures. He also hosted musical programs and advocated on behalf of Washington's "Family Safe, Kid-Friendly" radio station.
"I know the Lord has blessed me and kept me at WGTS for so long so that I could be a part of God's mission at WGTS, a ministry that not only touches the Washington, D.C., area, but is reaching out to the world," Fuller said last Sabbath evening at a special service that celebrated his 45 years of service to Christian radio. Friends, family and listeners filled the sanctuary of Sligo church in Takoma Park, Md., located across from the station, to celebrate and honor Fuller. The WGTS Gateway Fellowship Praise Band and Washington Adventist University students presented a brief musical history of WGTS. The National Christian Choir and Wintley Phipps also provided music.
Friends like author Joe Wheeler (Christmas in My Heart series), William Johnsson (former editor of the Adventist Review), Johnnie Johnson, John Konrad and many others shared the impact Fuller made in their lives. Others like Lonnie Melashenko, Chaplain Barry Black and author Willie Jolley sent video messages to Fuller and his wife, Joy.
In his video message, Dick Duerksen, a storycatcher for Maranatha Volunteers International, said, "I want to thank you for what you've done in my life. You gave me reason to smile into a microphone and know that that smile communicated to thousands of people and changed the quality of their day. … By watching Gerry Fuller, I think I do a better job at what I do today."
John Konrad, the station's general manager, said, "Gerry has been a constant source of support and inspiration to me since I started working at WGTS in high school. And even then though Gerry has been my boss for years, he's been more like a brother to me."
Guest after guest talked about how Fuller's passion, diligence and faith inspires them. They also shared that despite his accomplishments and position, he is still a true friend to everyone he meets. His belief in the people around him has driven them to major accomplishments in many fields. Fuller himself talked about how the Voice of God has been an important presence in his life through both the good and bad times.
The evening may have marked Fuller's retirement but it also marked the beginning of the Gerry Fuller Mission Outreach Fund. This fund will go to helping establish and mentor Christian radio stations throughout the world to more effectively spread the message of hope and encouragement through Christ.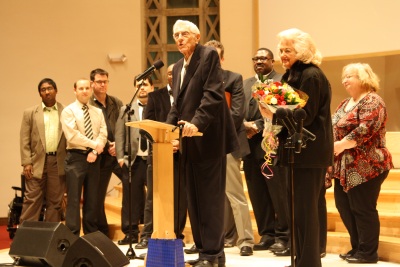 WGTS staff surround Gerry Fuller and his wife, Joy, on stage.