Spanish-Speaking Pastors Work On Graduate Degrees Close to Home
September 28, 2011 ∙ by cwhittingham ∙ in Columbia Union News, Noticias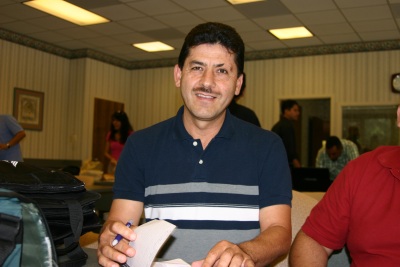 By Taashi Rowe
"Last year we baptized 42,000 Hispanics, which represents about a third of the entire baptisms done in all of the North American Division," shares Ricardo Norton, DMin, director of the Institute of Hispanic Ministries at Andrews University (Mich.). Norton is sitting in front of a class at the Columbia Union Conference's headquarters in Columbia, Md., which just finished covering the ins and outs of developing and implementing small group ministries. In front of him are 29 Spanish-speaking students, most pastors of churches throughout the union, who have just completed one class toward their Master of Arts in Pastoral Ministry. 
"This program prepares our pastors to be better practitioners," explains Norton motioning toward the class.  He coordinates this program through the Seventh-day Adventist Theological Seminary at Andrews University. "There are new challenges that Christianity is facing, new social issues and new world views that militate against Christianity. These courses prepare them to face those challenges."
The 48-credit hours program covers theology, history of the Adventist Church, mission, prophecy and practical theology. It also has two added benefits: it has a Spanish-speaking component and it allows pastors to learn while they continue to actively minister at their home churches.
"I live about 1 hour and 40 minutes from Columbia Union Conference, so we can travel in our cars and be back with our families each day," shares Rabiel Torres, a member of Allegheny East Conference's (AEC) Rehoboth Spanish church in Reading, Pa.  "I really appreciate that this is near home. We still have the time to do our work with the people as we minister. If we were to go to Andrews, our work would have to wait until we come back."
The Columbia Union, Southern Union, Atlantic Union and Lake Union sponsor the program, which allows students to take classes at their union offices. Those who choose to can take classes in other unions. Each year participants in this five-year program can earn nine credit hours by taking three, one-week intensive courses throughout the year.
Even though he already holds an undergraduate degree in ministry, Olives Villamizar, a pastor of three churches in the Potomac Conference, says he has already reaped the benefits of advancing his education. "What I learned here has helped me to plant a new church in Woodbridge, Va., and that has been a blessing," he said. "This is my second year in the program. With the help of God, I will acquire more tools to help in the work for the Lord."
Most of the participants in this program are full-time pastors, however, the program is also opened to distinguished lay leaders recommended by their pastors and conference officials. This explains Torres' participation. Director of lay ministries for AEC's Penniel Zone, Torres holds an undergraduate degree in psychology and was particularly excited about the small group class.
"This course taught us how we can implement small groups in the church in a wholistic way," he says. "It's going to help me a lot. I learned how to work with different people, integrate them into a group and also learn from them."
Luis Estrada, pastor of AEC's Emanuel Spanish church in Mount Ranier, Md., is just finishing up his first week in the program and has quite a way to go. Still, he is excited, "This is one of the most important things I can do to serve God and that is to update my education."
The first group of participants from this program is slated to graduate in 2013. In the meantime, their learning isn't limited to the one-week intensives, they have papers to present, books to read and churches to pastor.
Photo: Olives Villamizar, pastor of three Potomac Conference churches in  Woodbridge, Va., planted a church as a result of participating in this program.