Atlantic Union College Vote Memorandum of Understanding
March 09, 2011 ∙ by cwhittingham ∙ in Columbia Union News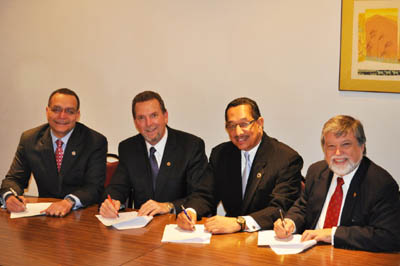 Takoma Park, MD — The Trustees of Washington Adventist University (WAU) today voted a Memorandum of Understanding with Atlantic Union College (AUC). This MOU calls for the two institutions to work toward an agreement to establish a branch campus of Washington Adventist University at Atlantic Union College in South Lancaster, Massachusetts. WAU would lease the facilities of AUC, and become the sole provider of higher education at the New England location. All provisions are dependent upon approval from the required accrediting and regulatory agencies.
This move follows a recent decision by the New England Association of Schools and Colleges to discontinue AUC's accreditation July 31, 2011, for financial reasons.
"We're grateful that our enrollment growth and financial position enables us to continue to provide accredited higher education to the community and constituents that Atlantic Union College serves," said Weymouth Spence, EdD, president of WAU. "Our desire is to build upon the rich heritage they've established with a focus on the future."
Norman Wendth, PhD, president of AUC, added, "I have believed for many years that to unite Atlantic Union College with Washington Adventist University would create a truly impressive educational institution. I am deeply pleased that we can respond to AUC's accreditation challenge in such a historically significant way."
The expansion positions WAU to serve the educational needs of students in 15 states in the Mid-Atlantic and Northeastern United States and the island of Bermuda.
Officials from both entities will now work together to complete a formal and binding agreement. This process will address key questions about governance, academic programs, and services in order to facilitate a smooth transition for both current and future students. WAU will then develop a business plan and seek approval from their governing boards, as well as state, regional, and church accrediting agencies.
WAU will provide updates as they become available via email and at www.wau.edu and www.auc.edu. Inquires should be directed to William Jackson, vice president for Marketing and Recruiting at WAU at (301) 891-4475 or wjackson@wau.edu.
#####
About Washington Adventist University
Founded in 1904, Washington Adventist University, a liberal arts institution of the Seventh-day Adventist Church, is headquartered in Takoma Park, Md. The university offers eight graduate and 32 undergraduate programs for 1,300 students of all faiths. The mission is to produce graduates who bring competence and moral leadership to their communities by creating a culture of excellence designed to engage minds and transform lives.
About Atlantic Union College
Founded in 1882, Atlantic Union College in South Lancaster, Mass., is the oldest campus in the Seventh-day Adventist worldwide educational system. Spring enrollment is 444 students in bachelor's, master's, associate and certificate programs, and the Adult Degree Program. Its specialized mission is to produce service-centered professionals who have the skills needed to help create healthy communities.
Photo: Weymouth Spence, president of Washington Adventist University; Dave Weigley, chair of the Washington Adventist University Board of Trustees; Don King, chair of the Atlantic Union College Board of Trustees; and Norman Wendth, president of Atlantic Union College sign the Memorandum of Understanding on behalf of their institutions. Photo by Kevin Manuel​