Seminars Available for Session Attendees
July 29, 2010 ∙ by owetmore ∙ in Columbia Union News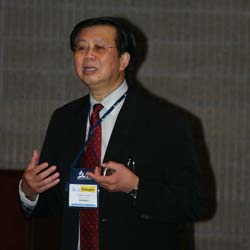 Story and Photos by Taashi Rowe
Jonathan Kuntaraf, Director of Sabbath School/Personal Ministries General Conference
Although delegates are busy attending the business sessions on the floor of the Georgia Dome, their families and some of the thousands of members attending from around the world can sit in on a multitude of seminars designed to improve their ministries back home. Seminars include Sabbath School tools, Health Ministries, women's meetings young adult leadership training, lay ministry training and an entire series on creation. 
In his seminar on personal ministries, Jonathan Kuntaraf, newly re-elected director of Sabbath School/Personal Ministries for the worldwide Seventh-day Adventist Church, emphasized that no matter how small a role they play, each person's ministry is critical in bringing someone to Christ. "Good news has to be refracted in our lives," he said. "Everyone has something to share."
Andrea Hicks (pictured below), North American Division Adventist Single Adult Ministries (ASAM) coordinator, helped organize two seminars themed "Live, Learn, Lead: Get a Vision." This was a General Conference Session first for this relatively young, division-level ministry. 
Hicks, a member of the Mt. Sinai church in Queens Village, N.Y., shared that ASAM is "not a hook up ministries. We teach you to get fixed up." She added that the goal of the seminars was to "teach our communities to take away the myths of single adult ministries and teach people to start their own." 
Alice Smith, a recently widowed Northside church member in St. Louis, left the meetings feeling strengthened. She noted that although "the value of the single adult Christian in the church has not been expanded," she was excited to get involved in such a ministry.
"Yes, Creation!" is the theme of a six-day series on creation organized by 
Geoscience Research Institute (GRI) in Loma Linda, Calif. The series will be presented in English, Spanish, Portuguese and French. 
Tim Standish, PhD, a research scientist, explained that GRI was doing the series because "This is the absolute core of our church. No creation, no Adventists. This is what God tells us to spend 1/7th of our time remembering. Adventist young people are losing their faith as a result of this issue."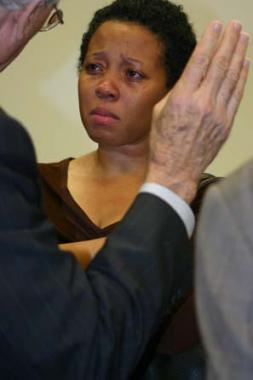 Quiana Boyd, a former member of the Metropolitan church in Atlanta, was moved by John Baldwin, PhD's, presentation "Why Does a Good Creator Permit Evil?"
Baldwin answered her questions after the presentation and prayed with her (pictured). 
"He said something to me that was really profound," she said afterward. "He told me, 'Whatever our tears are, that's our ministry.' I was hurt as a child and after coming to this seminar, I realize that I'm going back to school so that I can work with children and prevent what happened to me."
Many of the seminars take place in the Georgia World Congress Center. 
Sabbath School sessions take place between 12:30-1:45 p.m. and 5:30-6:45 p.m. in rooms B408 and B409. GRI seminars take place in B311 from 12-2p.m. and 5-7 p.m. Health Ministries seminars are held in B312 from 12-2p.m. and 5-7 p.m. Women's Meetings are in the Georgia Ballroom, Building C, Level 3. Meetings go until July 1 from 9:30-10:45 a.m. and Tuesday and Thursday 2-4 p.m. Tomorrow, June 30, 12:30-1:45 p.m., Minnie McNeil, Adventist Community Services director for Allegheny East Conference, will present a seminar titled Human Resource Development in Community Services Programs in Room B408.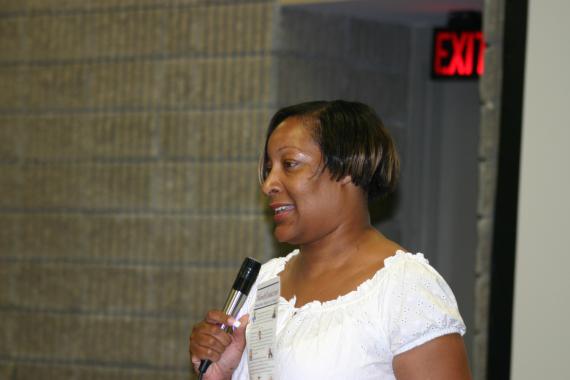 Andrea Hicks | Adventist Single Adult Ministries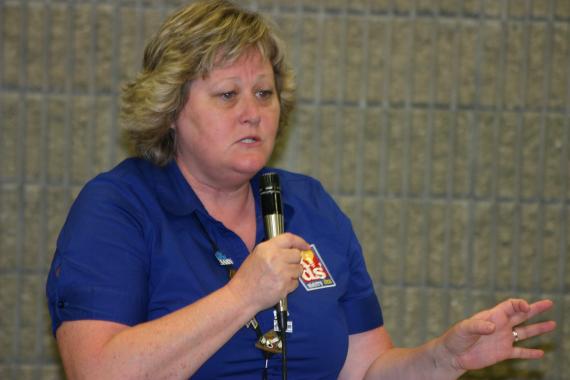 Candy DeVore | Review & Herald Publishing Association