Sligo Church Teen Raises $3,000 for Homeless
June 17, 2009 ∙ by owetmore ∙ in Potomac Conference
By Kitty Evans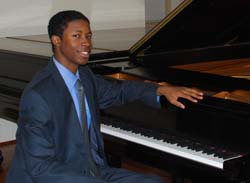 Emulating a master pianist's bold imagination on the cusp of his adult life, 18-year-old Matt Daley marshaled the components of his formative years when he performed the first classical music concert at Potomac Conference's Sligo church in Takoma Park, Md. The concert was held at the church's New Community Fellowship (NCF), a contemporary worship service held on Saturday nights, and raised $3,000 to benefit NCF's homeless ministry.
"My Mom always told me as I was growing up that it is important to give back to the community because I have a fortunate life," Daley explained. "When I was planning my high school senior recital I talked with [WGTS radio chaplain and NCF founder] Terry Johnsson about doing a benefit piano concert for the homeless, and he arranged it."
A member of the Maryland Classic Youth Philharmonic, the Maryland All-State Orchestra, and other prestigious music groups, Daley filled the Sligo sanctuary with strains of Bach, Beethoven, Chopin, Debussy, Liszt, and hymn arrangements capped by Phillip Bliss' magnificent "It Is Well With My Soul." 
This wasn't Daley's first benefit concert. Last year the former Sligo Adventist School student performed at a local fundraising rally for Presidential candidate Barack Obama. He is a 2009 Maryland Distinguished Scholar Finalist, has earned numerous prizes in piano and string competitions (he also plays violin and viola), and will attend University of Maryland, College Park this fall, majoring in Piano Performance.
"New Community Fellowship arranges a concert the fifth Saturday night of every month having five Sabbaths, featuring different artists," says Johnsson. "The concerts are usually contemporary, but Matt has been an instrumental part of our youth group and youth choir, and we are delighted he introduced our first classical concert."
Rain, snow, or blue skies, NCF has not once missed its monthly homeless feeding since launching Sligo church's weekly Saturday evening contemporary worship services more than five years ago. They give sack lunches to 150-200 homeless on a street corner in downtown Washington, D.C., along with toiletries, socks, jackets, and blankets in the winter. Sligo's youth joins NCF for homeless ministry once a quarter, sparking Daley's fundraising dream.
If you would like to take part in NCF's homeless ministry, you are welcome to come to Sligo church's kitchen at 7700 Carroll Avenue, Takoma Park, Md., at 3 p.m. the first Saturday of any month to make sandwiches or sort clothing, before heading downtown to feed the homeless. For more information, visit 4fellowship.com.