Richmond Academy Graduate Killed in Pacific Islands
November 25, 2009 ∙ by owetmore ∙ in Uncategorized
By Dan Jensen and George Johnson Jr.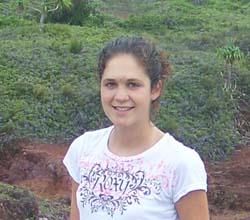 Kirsten Wolcott, a 2007 graduate of Richmond Adventist Academy in Richmond, Va., and a member of the Tappahannock (Va.) church, was recently found dead on the Pacific island of Yap, Micronesia. Church officials believe that Wolcott, a missionary who was teaching at the Seventh-day Adventist school there, was a homicide victim. 
Wolcott attended kindergarten through 10th grade at Tappahannock Junior Academy where her mother, Karen, still teaches. She grew up hearing her mother and brother talk about their mission trips. "She wanted to experience that same joy," Karen said. 
"She wanted to work with children. That was her passion. She also wanted to share her love for Christ with children and anyone she came in touch with," she added. 
"We will miss her terribly, but we know that God is sovereign, and … we look forward to [the] day when we will see her again," said her father, Hollis. 
Funeral services will be held on Sunday, November 29, at Tappahannock church, beginning at 1 p.m. In lieu of flowers, the Wolcott family is requesting that donations be made to the Kirsten Wolcott Memorial Fund. The fund will support Christian education, which so profoundly influenced Kirsten's life, and support student missionaries.
Donations may be sent to:
Kirsten Wolcott Memorial Fund
Tappahannock Seventh-day Adventist Church
P.O. Box 1106
Tappahannock, Va. 22560-1106
Wolcott's body will arrive at Ronald Reagan Washington National Airport on Thanksgiving Day (November 26) at 1 p.m., escorted by Louie Torres, president of the Guam Micronesia Mission. Debra Brill, vice president for ministries for the North American Division, Clinton Adams, pastor of the Tappahannock church, and Jose V. Rojas, director of volunteer ministries for the North American Division will also be present. 
Wolcott was a junior education major at Southern Adventist University (Tenn.). 
She also leaves behind brothers Nathan and Scott.