Potomac Hosts Ninth Deaf Camp
December 02, 2009 ∙ by owetmore ∙ in Potomac Conference
By Beth Michaels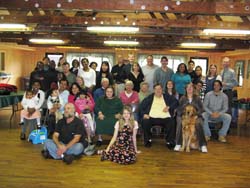 For three days in October, Potomac Conference's Deaf Evangelistic Adventist Fellowship (DEAF) congregation of Silver Spring, Md., hosted its ninth annual Deaf Eastern Autumn Revival (DEAR) Camp Meeting. About 40 deaf and hearing people attended the retreat, representing fives states—Maryland, Virginia, West Virginia, New York, and Minnesota—as well as Washington, D.C.
The event takes place at Camp Blue Ridge in Montebello, Va. Pastor Paul Kelly of Rochester, N.Y., was this year's guest speaker. He gave a through-provoking presentation titled "Is This Your Final Answer?" 
The weekend included time for fun—like canoeing—prayer, and reflection. A communion service on Friday evening was also a highlight of the retreat, giving attendees a chance to welcome the Sabbath. 
To read more about the DEAF congregation, or the DEAR camp, visit www.deafellowship.org.