New Treasurer to Join Pennsylvania Conference
August 19, 2009 ∙ by owetmore ∙ in Pennsylvania Conference
By Tamyra Horst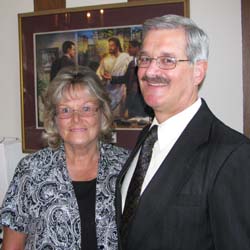 The Pennsylvania Conference welcomes Ron Christman, CPA, who will serve as treasurer beginning September 1. Before accepting this role, Christman served as the business manager for Forest Lake Academy (Fla.) and as the secretary/treasurer for Adventist-laymen's Services and Industries (ASI), a ministry of the North American Division. He began his ministry as a pastor for the Texas Conference, eventually moving to Kentucky to serve as vice president and chaplain for the Pleasant Grove Hospital located near Louisville, Ky. 
"I believe we have been blessed in answer to prayer to have Ron join the Pennsylvania Conference and our ministry team," says conference president Ray Hartwell. "He brings a wide wealth of experience and understanding from serving with a number of Seventh-day Adventist Church and ministry organizations. He clearly is passionate about the mission of the Adventist Church, and he is highly dedicated to its beliefs and purposes. He is committed to helping our conference advance the calling of the mission of Jesus to seek the lost and carry the Adventist hope forward."
Christman's commitment to serve God through a combination of business and pastoral ministry skills is shown through the various roles he has held—including youth director and then associate treasurer for the South American Division, as well as staff auditor for the General Conference. He earned a Bachelor of Arts from Southwestern Adventist University (Texas), a Master of Arts in Religion (Systematic Theology), as well as a Master of Business Administration from Andrews University (Mich.). The trilingual Christman is fluent in English, Spanish, and Portuguese. 
He and his wife, Joyce, an Adventist healthcare chaplain, have two adult sons. Ray is a pastor in the Texas Conference, and Rick is a church planter in Florida.