Kettering College Posts Highest Opening Enrollment
September 21, 2009 ∙ by owetmore ∙ in Kettering College, Health & Lifestyle
By Mindy Claggett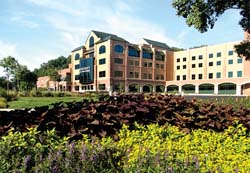 With a total of 899 students enrolled for the fall semester, Kettering College of Medical Arts has posted its highest opening enrollment in the 42-year history of the school. The number eclipses the previous high of 823 that was set at the start of the 2008-09 school year.
According to the school's opening report released last week, 563 full-time and 336 part-time students had registered for fall classes, overall nearly 80 more than 2008. The academic department that experienced the greatest increase was the master's degree in physician assistant. The department had 52 students last year but jumped to a total of 92 for this fall.
Kettering College had 510 students at the start of the 2000-01, academic year—the same year President Charles Scriven was hired. Since then, the school has jumped 43 percent in total enrollment and 44 percent in total credit hours. "Our numbers are up because we've really stepped up our recruiting efforts in the greater Dayton area and in the Columbia Union," said Victor Brown, dean for Enrollment Management. "We added a recruiter and increased the number of times we are visiting places. Also, the current economy is forcing people to retrain for other careers and is making them say, 'What kind of education can I get that will help me obtain a job?' Healthcare is definitely an area that still is hiring."
The interest level at Kettering College was so high for fall semester that the school had to stop accepting applications for most departments in early August. 
"We experienced a 15 percent increase over last year in the number of applications the admissions office received for the fall," said Becky McDonald, director of admissions. "I have been at KCMA for 13 years and have never seen an enrollment like this. We believe winter semester will be very similar and have already begun advising students to apply early."
About Kettering College of Medical Arts

Kettering College of Medical Arts is a fully accredited, coeducational college that specializes in health science education. A division of Kettering Medical Center, it's located on the KMC campus in a suburb of Dayton, Ohio, and is chartered by the Seventh-day Adventist Church. Kettering College offers certificate programs, Associate and Bachelor of Science degrees, and a Master of Physician Assistant Studies degree. Born out of Adventist faith and upholding Christ, Kettering College educates students to make service a life calling and to view health as harmony with God in body, mind, and spirit. Eighty percent of Kettering College graduates live and work in Ohio, with the majority settling in the Dayton area. It is one of two Columbia Union Conference institutions of higher education.