Kettering College Opens Learning Laboratories
October 21, 2009 ∙ by owetmore ∙ in Kettering College
By Mindy Claggett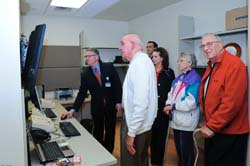 Kettering College of Medical Arts (KCMA) in Kettering, Ohio, celebrated the opening of the Staten Family Learning Laboratories in the Boonshoft Center for Medical Sciences. The labs are a newly remodeled space that includes both a physician assistant (PA) lab and a new skills lab for the medical sonography department. The combined space features 4,700 square feet of teaching, learning, and meeting area. 
The PA learning lab includes 10 exam rooms that will be linked with audio-visual monitoring communications and features simulated operating and emergency rooms. There also is a central teaching area for group projects and demonstrations, as well as student lockers and mailboxes and the necessary infrastructure for the later addition of a simulation mannequin. Storage was designed to accommodate the wide variety of learning supplies needed for the instruction of PA students in multiple disciplines. 
"A modern skills lab that adds realism to the educational experience is critical to what we do, and the ability to have simulation technology adds yet another element of realism to PA education," said Sue Wulff, chair of the PA department. "We have designed this space with technological growth built in so that, when future technology becomes available, we can adapt it to this space. We are so grateful to the Staten family for making this project a reality."
The medical sonography learning lab has seven examination bays with high-tech ultrasound equipment provided by GE Healthcare. These bays can be observed from a central control desk by video monitors that will display the actual scanning being done. A central teaching/learning area for presentations is equipped with computer plug-ins and is adapted for wireless information. Storage accommodates the learning devices and supplies used in the scan lab setting. A student apparel and book bag/computer storage space is also included.
"Having a true state-of-the-art learning lab offers our sonography students the lab experience they need to match the quality instruction we try to aspire to every day," said Joyce Grube, sonography department chair. "I anticipate that ultrasound supervisors and other sonography educators might want to tour our new facility. The ultra-modern teaching and learning environment of the new lab is unmatched by any sonography department I've ever seen. We conducted our first scan lab early this week, and the students love it already."
The Staten Family Learning Labs were made possible by a generous gift from John Staten, chairman of the board at O'Neil and Associates in Miamisburg, Ohio. Staten's son, Greg, is a 2001 graduate of Kettering College's PA program. The Virginia W. Kettering Foundation also made a significant donation toward the project.