Hanover Women Raise Funds for Community Ministry
August 18, 2009 ∙ by owetmore ∙ in Pennsylvania Conference
By Lynn Himes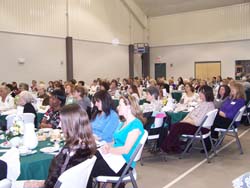 A newspaper ad, along with word-of-mouth, drew more than 140 women to Pennsylvania's Conference's Hanover church's "Rest in God's Garden Tea." More than 100 were guests who came to enjoy an afternoon of laughter, singing, and spiritual messages.
A local ministry, known as Women 4 Christ, supplied the background music. Their founder, Ched Lawrence, was the featured speaker. Singers Suzanne Receveur and Nancy Sprague, along with the inspirational comedy of Jody Knowlton in the character of 92-year-old "Aunt Hazel," made for a delightful afternoon. During the program, the ladies enjoyed tea and delcious finger foods.
The program was a fundraiser for Tender Care Pregnancy Consultation Services—a Christian counseling service for young girls who find themselves with unplanned pregnancies—in Hanover and Gettysburg. The women of the Hanover church organized the tea to raise funds for this community ministry in honor of Angie Waring, a church member who passed away unexpectedly and had volunteered at Tender Care. The proceeds from the ticket sales and the generous donations from businesses and individuals made it possible to present the organization with a check for $1,000. 
During the program, heavy rain and hail poured on the facility's metal roof, making hearing impossible. Lawrence interrupted the program to pray and ask God to stop the rain. Before she finished her prayer, the loud heavy rain was reduced to a gentle spring shower and eventually the sun came out.