Fairview Church Raises Money for the Sick, Jobless
September 21, 2009 ∙ by owetmore ∙ in Pennsylvania Conference
By Visitor Staff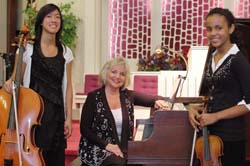 Though their numbers may be small, those attending Pennsylvania Conference's Fairview Village (Pa.) church have big hearts. The church recently hosted a concert to benefit those in their congregation and community who were experiencing financial hardships.  
The concert was held after member Donna Dumar made the suggestion in a church board meeting noting that several members were jobless due to injury or illness. Fairview Village members invited others from the Bucks County, Doylestown, Grace Tabernacle, Phoenixville, Boulevard, Havertown, Lansdale, and Chestnut Hill churches. 
Many turned out for the event and enjoyed sacred hymns and classical selections from Handel, Bach, Mozart, Kreisler, and Saint-Saens played on the piano, violin, and cello. Musicians included children from the Fairview church: Jonathan Dumar, Anita Dumar, and Ariana Anugerah; as well as pianist June Davis from the Chestnut Hill church.
"The Lord drew a faithful crowd that night allowing for a wonderful turnout!" Ryan Richard, a Fairview member, happily exclaimed. "I believe this concert was instrumental in bringing our sister churches together to give freely toward a common cause."
"We collected more than $500 that will go to help our members and others in the community," reported Bukaris Anugerah, Fairview's head elder. "Because this was a Christian concert the atmosphere was also very uplifting. The music imparted a feeling of peace and joy that people really appreciated."
A freewill offering was collected after the concert, and, following the concert, attendees enjoyed light refreshments in the fellowship room.