500 Listeners Attend WGTS Worship Service
June 23, 2009 ∙ by owetmore ∙ in Washington Adventist University
By Alexis A. Goring | Photos by Trevor W. Goring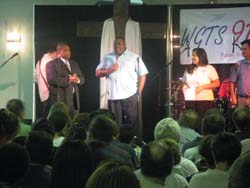 June 12th marked a special date for "Family-Friendly Music" station WGTS 91.9 FM as they presented Night of Hope in an effort to reach out to hurting souls. 
"I heard the advertisement on WGTS 91.9 FM, which I listen to on a regular basis! It sounded like something I needed to hear," said Melissa Gorton, a local paralegal. "Of course, I couldn't think of a better way to spend my Friday night!"
Gorton, and many like her, came out to Night of Hope, hosted at the Best Western in Tysons Corner, Va. The nearly 500 attendees were driven to receive encouragement and a more positive outlook on life during these stormy times for America as the news of our nation's recession and other troubles deepens. Night of Hope provided a place for relief.
"As I entered the room, there was an atmosphere of peace, and it was very soothing," said Kay Vaughan, an Adventist solopreneur. "I was most moved by the diversity of the individuals, but everyone seemed to be having a joyous time singing and praising God."
Night of Hope was the first event of its nature hosted by WGTS. It was an idea originated by station Chaplain Terry Johnsson, fueled with input by morning show deejay Angela Stevens, supported by general manager John Konrad, and artfully brought into reality on Friday night, fulfilling its purpose as a way to better connect with the listening family.
"This marks the beginning of many marvelous things that the radio station can do to reach out to our listeners," said Konrad. "We know that through the difficult times that our country is experiencing, there are many who need to hear a word of encouragement and of hope, a hope that the best is yet to come! We want people to know that with God all things are possible." 
While this event was thoughtfully planned, not everyone who attended Night of Hope was planning on it.
"Night of Hope was definitely not a planned night for me," said Jean Wesley who works as an IT Specialist for the Department of State, "and I went there just randomly, but now I see that it was God calling me there the whole time."
God's calling and blessing upon all who attended and made Night of Hope happen could be felt throughout the evening's events.
Praise and worship songs led out by Angela Stevens, accompanied by friends Azizah Sy and Summer Wood, set the serene atmosphere. They sung worship songs such as, "Power of Your Love" and "Let it Rise." With every song, came a word to the wise as Angela shared Scripture with the audience. "[God says] 'My grace is sufficient for you; My strength is perfect,'" said Stevens. "Being strong and perfect before coming to the Lord is totally unnecessary!"
Sy's beautiful, pure, angel-like voice filled the venue with a sweet sound and brought immediate applause from the audience as they experienced a quiet still. The effect was almost like you could feel the Lord's presence radiate through the venue causing even little children to raise their hands in silent praise. 
Midway through the evening, Johnsson, who gave an inspiring message of hope, showed a special video presentation—a winner of the 2007 YouTube Awards. It was a powerful, dramatic skit based on the song "Everything," by American alternative band Lifehouse. At the end of the skit, Chaplain Johnsson made an altar call and offered prayer for the 300 people who came forward: "We want to leave this place tonight knowing Jesus that You are real, and You still do miracles!"
The take-home message for the evening was pure and simple: "Hope," said Chaplain Johnsson. "In spite of all life's problems and troubles, we can still leave with hope. No matter what we go through in life, God is always by our side and He sees the big picture." 
Next Event: November 13